Android Wear: Everything You Need to Know
24 Jun 2014 by Simon Thomas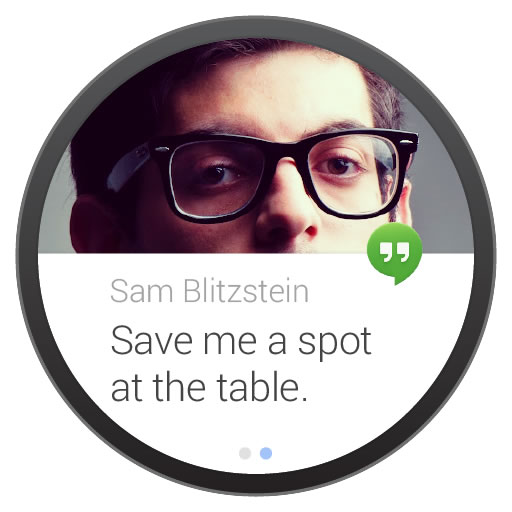 There's every chance that Android Wear could be one of the biggest consumer technology releases of 2014. It's a modified version of Android, designed specifically to be used on wearables, such as smartwatches, and it could be just what's needed to bring such devices into the mainstream.

So get ahead of the game and read on for everything that you need to know about Google's new operating system.

Release date

It's expected that Android Wear will launch at Google I/O on the 25th and 26th of June, which is now just a few days away so there's not long to wait at all.
It's likely to be unveiled alongside the Moto 360 and the LG G Watch, which themselves will probably be the first two commercially available smartwatches to run Android Wear.

Features

Simplicity
Android Wear is designed to be simple enough that you can take anything in at a glance. So rather than dozens of icons and options an Android Wear device will usually just show you one or two things at once. If you get a message or notification that will fill the screen and the rest of the time it will likely just be filled by a clock face, or by the time and weather.
Most interactions are done by talking to the device, so you just say 'Ok Google' and then you get access to a range of voice commands, such as making a note, setting a reminder, sending a message or navigating somewhere.

Seamless integration

As with most smartwatch OS's, Android Wear relies on a connection to a smartphone for many of its features. But by being based on Android it works quite seamlessly with Android handsets. For example notifications can be made to appear on a wearable automatically, without developers having to make any modifications to their Android apps and they'll buzz both on the phone and the wearable.

Enhanced controls such as music controls also work automatically across platforms. On the surface none of this matters much to users but it means that far more apps are likely to be compatible with Android Wear than if it required work from developers.

However if a developer wants to further customise an app for Android Wear that's possible too and allows for things like 'Stacks' which are multiple, bundled notifications, 'Pages' which allow for more than one page of information to be used for a single notification and 'Replies', which allow users to automatically respond to a notification with their voice.

Developers will even be able to go one further and create apps specifically for Android Wear. The SDK for apps isn't available just yet so don't expect many from day one, but it will allow things to run directly from the wearable with for example custom UI's, custom voice actions and real time sensor data showing on the device.

Advantages

There's been a fair bit of debate as to what the point of a wearable actually is when all it really does is a subset of the things your phone does, but in a video about Android Wear, Timothy Jordan, a Developer Advocate at Google, points out that by having the information on your wrist you actually spend less time getting lost in technology, because you only see the notifications you need, you can see them at a glance and there's less scope for getting distracted by other things on a smartwatch than on a smartphone. In theory you're therefore both more present in the real world and more connected to the virtual world.

More to come

That's the basics covered but it's likely that Google is keeping many of the details up its sleeve, so expect a few surprises at Google I/O. What those will be is anyone's guess but we'll know soon enough.