Apple iPhone 5S To Launch In First Half Of 2013 ?
6 Dec 2012 by Simon Thomas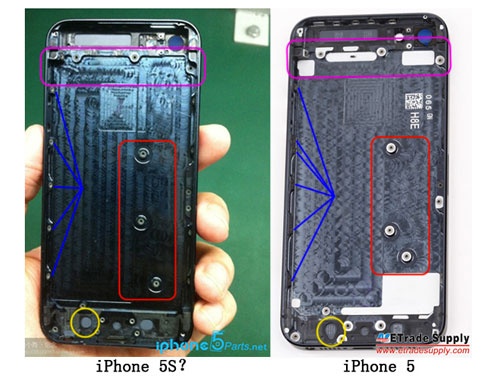 Apple only launched the iPhone 5 in September and we've now got information that they are already working on its successor , the iPhone 5S.
Pictures of the inners of what is being purported as the iPhone 5S have been leaked on the French website Nowhereelse.fr. The image, which can viewed above, shows the iPhone 5S alongside the iPhone 5.
The first thing we can glean from the images is that the physical form-factor of the iPhone 5S seems identical to its predecessor. This sits well with Apple's previous tradition which keeps the same physical design for two iPhone iterations.
However, if you look at the pictures closely you'll see that the inners of the iPhone have been moved around slightly in the iPhone 5S. The screws for example now have a different location confirming that the pictures show a modified iPhone 5.
3G's gut-instincts tell us that the pictures are of a prototype iPhone 5S and that it'll be a good couple of months before the iPhone 5S moves into final production. While, a launch towards the end of 2013 seems like a reasonable time-scale for Apple to release the successor to the iPhone 5.
At the current time we don't have any details about the iPhone 5S and it'll be a long time before we do hear concrete information. However, we'll keep you updated with all the rumours about the next iPhone when they leak !