Apple to refund 'unauthorised' in-app purchases made by children
16 Jan 2014 by Simon Thomas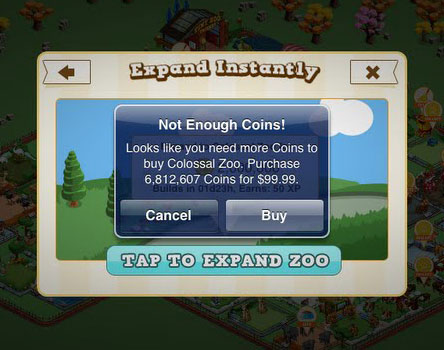 Apple have made a settlement with the Federal Trade Commission (FTC) in the US to refund parents whose children have made in-app purchases without their permission. In some cases parents have reported bills running into the thousands of dollars due to an issue with the way Apple authorises in-app purchases.
The Cupertino giant has agreed to refund at least $32.5m to parents who complained after their children made in-app purchases that effectively weren't authorised. Apple have also agreed to make changes to the billing procedure in the future to avoid the situation being repeated in the future.
"This settlement is a victory for consumers harmed by Apple's unfair billing, and a signal to the business community: whether you're doing business in the mobile arena or the mall down the street, fundamental consumer protections apply," said FTC Chairwoman Edith Ramirez in a statement.
An internal Apple email has also been obtained by 9to5Mac sent by Apple CEO Tim Cook to Apple employees, which reveal that the company began taking pro-active action to resolve the problem last year.
In the email he unveiled that "We wanted to reach every customer who might have been affected, so we sent emails to 28 million App Store customers - anyone who had made an in-app purchase in a game designed for kids." He added that "In all, we received 37,000 claims and we will be reimbursing each one as promised."
That figure is now to rise significantly after the settlement in the US was announced and, with in-app purchases ranging from $0.99 to $100 (thanks to the BBC for the figures), the total is likely to quickly pass the cautious $32.5m prediction. In-app purchases generally buy in-game currency, unlock new app features, or allow users to progress through games quicker.
What is the cause of the problem and how will it be avoided in the future?
The problem is caused by the way Apple handles in-app purchases. Once a password is entered for a single in-app purchase, a user can then download an unlimited number of further in-app purchase for a period 15 minutes.
So once a parent has given their child permission to download a single in-app purchase the child has effectively been given a short period to run riot and download as many apps as they want. In a way it reminds us of the finale of the cult game-show Supermarket Sweep where constants run around the store grabbing as many groceries as they can in a certain time.
By March 31st in the US, Apple will have to obtain 'express consent' for in-app purchases which makes it perfectly clear that a purchase is being made. That's also likely to involve re-inputting a password (or fingerprint) every time an in-app purchase is made - or at the very least making it clear that by inputting a password they are authorising unlimited in-app purchases for a short period.
In the leaked internal email Tim Cook added that "The consent decree the FTC proposed does not require us to do anything we weren't already going to do, so we decided to accept it rather that take on a long and distracting legal fight," he said.
What about the UK?
The settlement and the proposed changes only relate to the App Store in the US. But Apple have generally refunded purchases made by children to parents in the UK.
So if you've been affected you should contact Apple support to see if you qualify for a refund. But bear in mind that if you do make a claim that the in-app purchases will be removed, so any new features or in-game currency will be taken away.

We are also expecting Apple to roll-out the future changes to in-app purchases globally to avoid future lawsuits and problems.
Have you been caught of by in-app purchases? If so let us know by leaving a comment below.