Bright Red Google Nexus 5 Now On Sale in UK
5 Feb 2014 by Kevin Thomas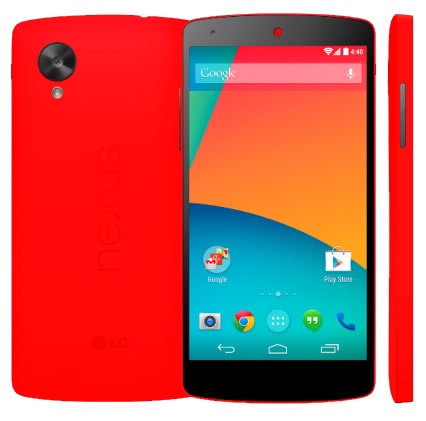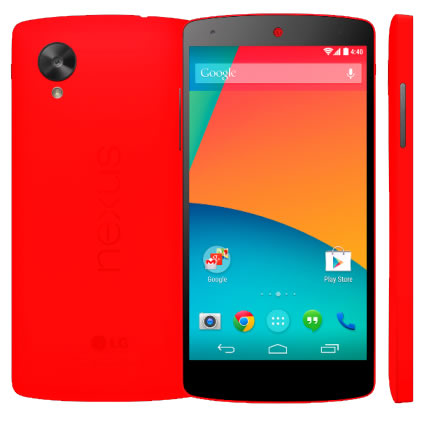 Bright Red version of the Google Nexus 5 comes into play.
LG has confirmed that its Bright Red Google Nexus 5 version can now be bought from the Google Play store and Carphone Warehouse from £299.
The Google Nexus 5 was launched back in October, 2013 and needed some gloss as the only colour choice was dreary black or plain white.
Dr. Jong-seok Park, President and CEO of LG Electronics Mobile commented "The Nexus line has always been about doing things differently and consumers who share this philosophy have been our most loyal fans". "We're carrying this thinking over to the red Nexus 5, which we think will catch the eye of consumers who want to make an even bolder statement."
The Nexus 5 is the slimmest and fastest Nexus smartphone to date measuring 8.59 mm thick and weighing 130 grams. It ships with Android KitKat powered by the cutting-edge 2.26 GHz Qualcomm Snapdragon 800 processor whilst the display is a 5-inch Full HD IPS display.
3G completed our Google Nexus 5 review back in November and concluded "The Nexus 5 offers a good platform to show off Android 4.4 and although its design is pedestrian, the improved functionality of the new OS, speedy performance and competitive price should be tempting enough".
The Nexus 5 is currently available to buy from the Google Play store. The 16GB version costs £299 and the 32GB version £339. Orders will be dispatched within 48 hours.
Carphone Warehouse will also have the Bright Red Nexus 5 on sale today – Wednesday 5th February. More details to come once they add it to their website.