Facebook now forcing users to message with standalone app
31 Jul 2014 by Kevin Thomas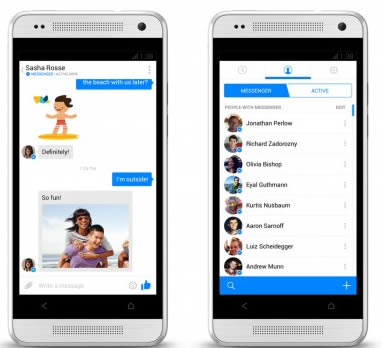 In many ways the Facebook app on iOS and Android isn't a million miles away from the website experience, but lately Facebook has been working to improve the messaging experience on phones and tablets.
The fruit of that labour was the Facebook Messenger app, a separate app which integrates with the main Facebook app and adds some mobile focused features, such as being able to take photos and videos from the app itself and send them straight to contacts. It's a slick service which means you're never far from your messages and it feels like a more complete experience than the built in messaging function.
Until recently it was also optional, with users being able to message each other from the main Facebook app instead if they preferred. Then Facebook started forcing certain European users to use Messenger and now, according to TechCrunch, the company is scrapping its built in messaging service altogether when using the iOS or Android Facebook app and all users will have to get Facebook Messenger if they want to continue communicating with their Facebook friends when on the move.
In the coming days and weeks Facebook will be both informing users from the Facebook app and emailing them about the impending change and while the company hasn't made a public announcement about the change it sent the following statement to TechCrunch: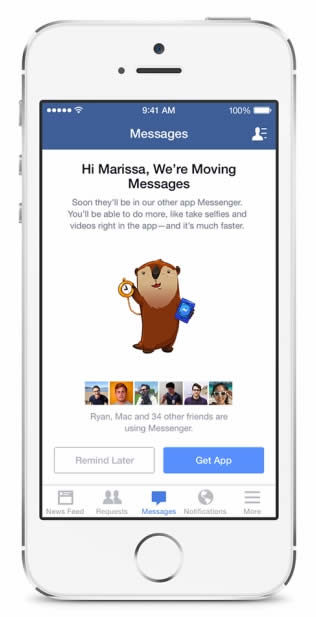 "In the next few days, we're continuing to notify more people that if they want to send and receive Facebook messages, they'll need to download the Messenger app. As we've said, our goal is to focus development efforts on making Messenger the best mobile messaging experience possible and avoid the confusion of having separate Facebook mobile messaging experiences. Messenger is used by more than 200 million people every month, and we'll keep working to make it an even more engaging way to connect with people."
So there you have it, messaging from the Facebook app is dead, long live Facebook Messenger. This is bound to annoy anyone who's not already using Facebook Messenger by choice, but in the long run it could be for the best, as it's definitely a superior system, though we're not really sure why it has to be a standalone app and couldn't just have been added to the main Facebook chat interface.