Fleksy brings touchscreen typing to smartwatches
1 Jul 2014 by Kevin Thomas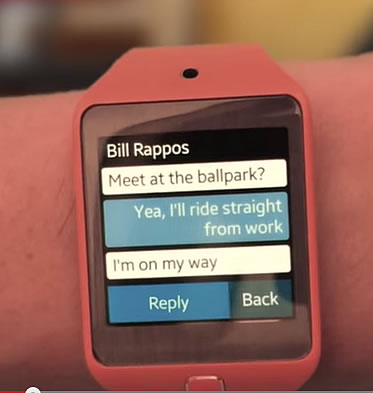 Touchscreen typing arrives on smartwatches
Typing on a smartwatch can be a pain. Space is incredibly limited so typos are inevitable, which is why Android Wear devices are largely voice controlled. But even then there are times when being able to type would come in handy and Fleksy is trying to take the pain out of it.
Its keyboard isn't actually available for Android Wear yet, but it is available for Samsung's Tizen powered Gear 2 smartwatch. In fact it was the first touchscreen keyboard for the device, allowing users to send and reply to SMS messages just as they would on a phone.
Ioannis Verdelis, COO of Fleksy said: "Fleksy allows users to accurately type on any device, regardless of size. This is an important milestone in our mission to make touchscreen typing easier on wearable devices. We are now bridging the gap between your smartwatch and smartphone, making it easier for you to communicate directly from your wrist."
While most touchscreen keyboards rely on word prediction and autocorrect to speed up typing, Fleksy uses Geometric Intelligence to work out what you meant to type even if you get every single letter wrong. It does this by looking at where on the keyboard you tapped, not just which letters you pressed, and analyses your typing pattern to work out what word you were trying to write.
It also incorporates a gesture system, which lets you add punctuation, spaces and more with just a swipe of the screen, all of which makes it a perfect fit for a smartwatch, though it's available on smartphones too.
It's likely that it will turn up on Android Wear before long as well, but for now if you have a Gear 2 or even just an Android smartphone it's well worth checking out.
Have you read our Best Android Smartwatches article ?