Galaxy Note 2 To Be Unveiled At Unpacked Event This Month
3 Aug 2012 by Simon Thomas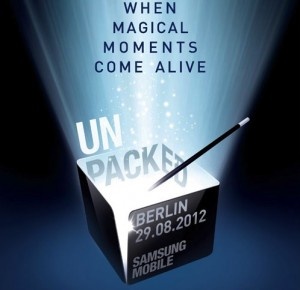 Last month we reported that the Samsung Galaxy Note 2 would be unveiled in August and this has now been confirmed by Samsung.
The Samsung Galaxy Note 2 will be unveiled at Samsungs "Unpacked" event which takes place in Berlin on 29th August, which is just before this years IFA which starts in the same place on the 31st August.
Samsung have posted a teasing invitation to the "Unpacked" event which features a stylus, which is one of the main features of the original Galaxy Note. A Samsung employee then told Reuters that the Korean company would be unveiling the Note 2 at the event.
The original Galaxy Note was one of the surprise successes of 2011 and it's 5.3 inch touch-screen must have hit a sweet-spot with consumers. Samsung will be hoping to continue the success of the range with the launch of its successor.
The Galaxy Note 2 is expected to have an even bigger 5.5 inch touch-screen, a 12 mega-pixel camera, quad-core processor and to run on Android Jelly Bean. You can read all about the Galaxy Note 2 in our in-depth review of the smartphone by clicking here.
3G will bring you all the latest news about the Galaxy Note and Samsung's Unpacked event as soon as we hear any fresh information.