Google Nexus 10 - Is It An iPad Beater ?
30 Oct 2012 by Simon Thomas
Google officially unveiled the Nexus 10 yesterday alongside the Nexus 4 and a 3G version of the Nexus 7. The Google Nexus 10 is a premium Android tablet that is aimed at competing more directly with Apple's iPad, but how does it compare with Apple's tablet ?
Display & Form Factor
The Nexus 10's 10 inch display runs at a resolution of 2560 x 1600 pixels, which is way above 1080p and gives the tablet a pixels per inch (PPI) of 330. This is significantly higher than the iPad's 264 ppi Retina display and makes it the highest resolution tablet in the world.
Google's tablet has dimensions of 10.4 x 6.9 x 0.35 inches and weighs 603g , while Apple's iPad is slightly heavier and bulkier at 9.5 x 7.31 x 0.37 inches and 653g. However, we've yet to get our hands on Google's device , but our instincts tell us that the build quality of the iPad will be significantly better than the Nexus 10.
Power & Features
When it comes to power the Nexus 10 is powered by Samsung's 1.7 dual-core Exynos processor, which should prove at least as good as the A6X processor featured in Apple's latest iPad. The Nexus 10 also comes with double the RAM of the iPad (2GB v 1GB), which is needed due to the higher resolution of Google's device.
The battery life of the Google Nexus 10 is identical to Apple's iPad, while both tablets also run on the very latest version of their relative operating systems with the Nexus 10 shipping with Android 4.2 and the iPad coming with iOS 6.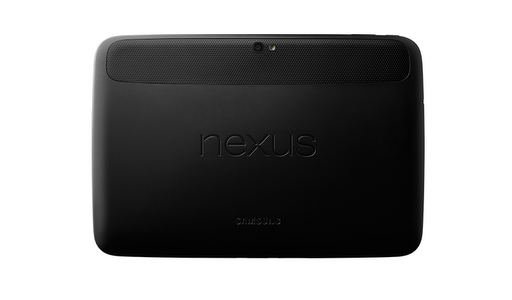 When it comes to multi-media features Google's tablet has the edge because it comes with a 5 mega-pixel rear-facing camera, a front-facing 1.9 mega-pixel snapper and dual stereo speakers. While Apple's latest iPad comes with a 4 mega-pixel rear facing camera, a 1.3 mega-pixel front-facing snapper and a single mono speaker.
In terms of connectivity the Nexus 10 only supports WiFi, while the iPad is available in a choice of either WiFi or 3G models. However, Google's device does support NFC which is lacking on Apple's tablet.
Price and Availability
So far the Nexus 10 seems to be winning or drawing level with Apple's iPad in every category. So what about price ?
Well the 16GB Nexus 10 will be available to buy from November 13th for £319 , while the 32GB costs £389. This undercuts the iPad prices which begin at £399 for the 16GB model and rise to £479 for the 32GB model.
Closing Thoughts
Google have pulled it off again by producing a premium tablet that is cheaper than its main competitors , while arguably having a better specification. 3G hope to review Google's Nexus 10 very soon and we're already itching to get our hands on the tablet.