HTC brings the iconic One M8 to Windows Phone
20 Aug 2014 by Simon Thomas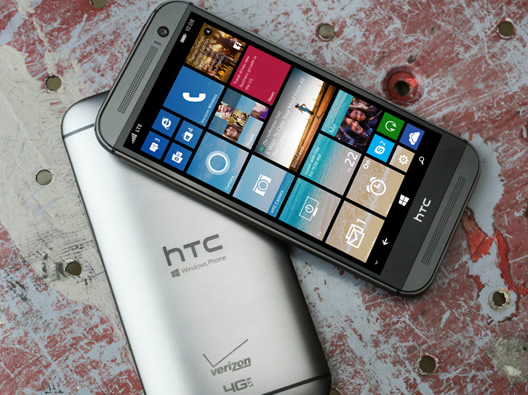 It's not often that an interesting Windows Phone handset that doesn't have Lumia in the name comes out but one just has.

The HTC One M8 for Windows is exactly what the name suggests, an HTC One M8 with Windows Phone 8.1 in place of Android.

So it has the same curved metal body, the same dual front-facing BoomSound speakers and the same specs, including a 5.0 inch 1080 x 1920 display with a pixel density of 441 pixels per inch, a 2.3GHz quad-core Snapdragon 801 processor, 2GB of RAM and an innovative 4 Ultrapixel camera, with a separate depth sensor and a 5 megapixel front facing snapper.

You can also look forward to 32GB of built in storage, a microSD card slot and a 2600 mAh battery, all that's different is the operating system. So you get live tiles, Cortana and Action Centre, while HTC's BlinkFeed is integrated into the Live Tile layout.

Not only is this the first major non-Lumia Windows Phone handset in recent memory, it's also the first HTC made Windows Phone handset in more than two years and the first flagship phone that's available with a choice of operating systems.

It's a premium, high end device, which will probably mainly sell to consumers itching for premium hardware running Windows Phone, but it could be good for businesses too, thanks to the ability to easily separate personal and professional information on the phone.

It's not all good news though, as the HTC One M8 for Windows Phone is currently US only. It's already available on Verizon, while AT&T lists it as coming soon, but HTC has confirmed that for the time being it's a US only device.

That still leaves the possibility open that it will reach the UK eventually, indeed it's hard to imagine that such a high profile handset wouldn't, but we have no word on when and wouldn't expect it in the next few months.

The good news is that if and when it does arrive it might be cheaper than its Android counterpart, as in the US it's roughly half the cost on contract, presumably because Microsoft is desperate to shift units and build interest in its struggling operating system.