HTC One M9 concepts emerging already
10 Jun 2014 by Kevin Thomas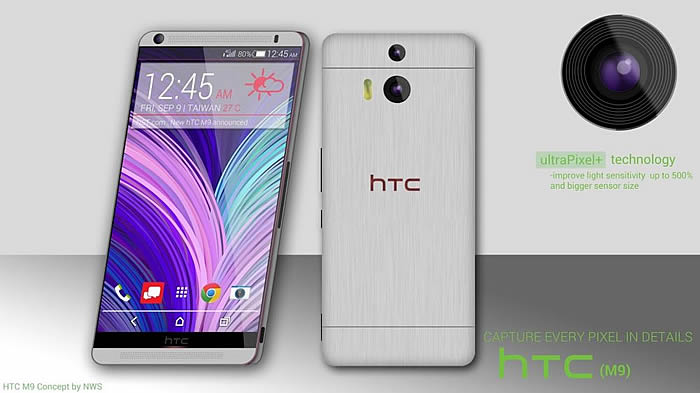 HTC One M9 concept highlights UltraPixel+ technology.
It's barely been any time since the HTC One M8 arrived and yet not only has HTC announced the HTC One E8 and is rumoured to be working on the HTC One M8 Prime, but now someone has already come up with a concept for the HTC One M9.
Designer Neoh Wei Sheng created it and, well, it looks believable, which is to say that it doesn't look a million miles from the HTC One M8. The M8 refined the design of the HTC One M7 rather than completely changing it so it's reasonable to think that the M9 will take a similar approach and further refine the design, which is what we see here.
Overall look
The overall look is very similar, complete with the curved metal back, dual front-facing BoomSound speakers and Duo Ultrapixel camera setup with dual-LED flash on the back.
It's not identical though. The screen seems to truly be edge-to-edge, with miniscule bezels at each side. That's a change which we'd wager we're likely to see as the HTC One M8 still has quite visible bezels. The top and bottom bezels have been slimmed down too. At the top it's just big enough to fit the speaker and front facing camera, while the bottom bezel is a little larger, still allowing room for the black bar that seems to serve no purpose other than display the company logo, but it's narrower than on the HTC One M8.
Other changes include the addition of what appears to be a hardware camera button and a slightly less rounded design than its predecessor. While no measurements are given it also looks like it's slimmer than the HTC One M8, which again would make sense given that the M8 comes in at a fairly chunky 9.4mm.
Larger screen size?
It also looks like the screen is probably a little bigger than the HTC One M8's 5.0 inch display, but given the smaller bezels the overall footprint may not be much larger, much like LG achieved with the G3.
Other smaller changes include moving the front camera lens from the right to the left of the handset and you can see from the screen that unsurprisingly it supports 4G.
Final comment
Of course while this is a well thought out concept that's all it is and while we reckon there's a good chance that aspects of this design will make it into the HTC One M9 the fact is that we've not heard anything about it at all yet. So if you don't like this concept, don't worry, the final handset may be nothing like it.
Have you seen our HTC One M8 review?