HTC One Mini 2 vs HTC One M8: What are the differences?
20 May 2014 by Kevin Thomas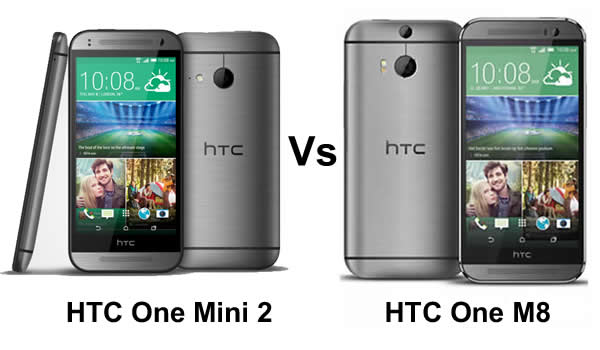 HTC delivered one of the best handsets of the year in the form of the HTC One M8 and now it's back with another exciting device, the HTC One Mini 2. It looks essentially like a shrunk down version of the One M8, but a lot more has changed than just the size, so read on to find out exactly what's different.
Design and build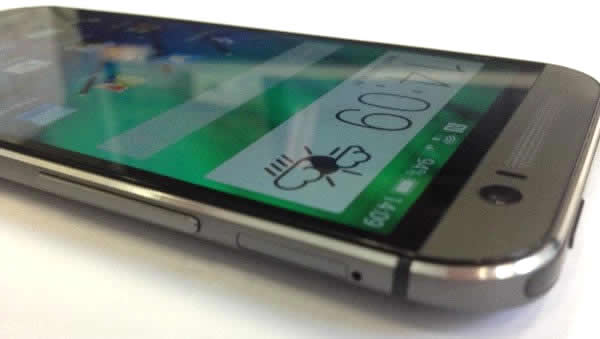 Initially you might be hard pushed to tell much difference between the HTC One M8 (above) and the HTC One Mini 2 other than the size. They're both the same rectangular shape with rounded corners, they both have the same curved aluminium back and they both have dual front-facing BoomSound speakers, which incidentally sound just as good on both handsets.
But look a little closer and you'll see that there's a plastic band running around the edge of the HTC One Mini 2. It covers more or less the whole top and bottom edge of the phone while along the sides it's quite narrow as the brushed metal back curves up to share the space with it.
There's no such band on the One M8, it's a phone that's about as metal as you could hope to get and it looks better for it, though to be clear both handsets look sumptuously high end.
Taking a closer look at the dimensions, the HTC One M8 comes in at 146.4 x 70.6 x 9.4mm and 160g, while the HTC One Mini 2 has dimensions of 137.43 x 65.04 x 10.6mm and weighs 137g, so as you'd expect it's shorter, narrower and lighter than its larger sibling but surprisingly it's also a little fatter, giving it a slightly chunky feel.
Power
The respective power of the two phones is probably the biggest difference. The HTC One M8 is a true flagship with a 2.3 GHz quad-core Snapdragon 801 processor and 2GB of RAM, while the HTC One Mini 2 is in mid-range territory with its 1.2 GHz quad-core Snapdragon 400 processor and 1GB of RAM.
That makes the HTC One M8 the substantially more powerful device, though the HTC One Mini 2 still seems to have fairly impressive performance and they both run the latest version of Android (4.4.2 KitKat) and the latest version of HTC's Sense overlay (Sense 6).
Screen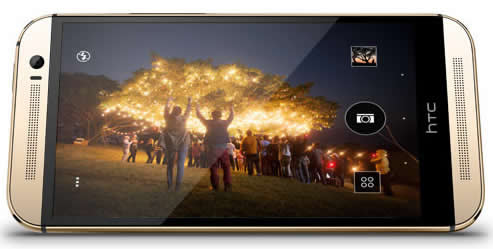 The HTC One M8 (above) has a 5 inch 1080 x 1920 display with a pixel density of 441 pixels per inch, while the HTC One Mini 2 has a 4.5 inch 720 x 1280 display with a pixel density of 326 pixels per inch. So it's got a smaller screen than the M8, as you'd expect given the name, but at only half an inch smaller it's still a decent size.
The resolution is lower too as while the One M8 has a full HD screen, the One Mini 2 is just 720p. As a result images aren't quite as sharp but it's still pretty crisp and you're not likely to notice that it's lacking in any sense unless you compare it side by side with the M8 or another full HD handset.
Camera
A very different approach has been taken on the HTC One Mini 2's camera (above) compared to that of the HTC One M8. The One M8 has a 4 Ultrapixel snapper with a dual LED flash and a second sensor used to judge depth in an image, allowing you to change the focus after the photo is taken.
The HTC One Mini 2 on the other hand has a 13 megapixel camera with a single LED flash and no secondary sensor, so it's lacking features compared to the One M8 and while it has more megapixels the pixels themselves are smaller so it isn't as good in low light.
The HTC One Mini 2 also has less modes and options to choose from while shooting, as for example it lacks a panorama mode, which the M8 has and it even lacks Zoe, at least until HTC get round to releasing it as a standalone app later in the year.
The front facing cameras are the same though, as both handsets have 5 megapixel ones and both phones can also shoot 1080p video.
Battery
The HTC One M8 has a 2600 mAh juice pack which can last for up to 496 hours on standby or 20 hours of talk time. In practice it's one of the best smartphone batteries we've come across and should be able to see you through two days of moderate use.
The HTC One Mini 2 has a smaller 2100 mAh battery which HTC quotes for up to 16.2 hours of talk time or 556 hours of standby time, we haven't been able to fully test it yet but those are some solid stats which should put it a little below the HTC One M8 for battery life but a little above average.
Storage
The HTC One M8 comes with a choice of 16 or 32GB of storage, on top of which there's also a microSD card slot with support for cards of up to 128GB. The HTC One Mini 2 only comes with 16GB of built in storage but it has a microSD card slot with the same capacity as the One M8.
Conclusion
Ultimately, more is different between these phones than the same and if you're expecting the HTC One Mini 2 to just be a smaller version of the HTC One M8 then you might be surprised and disappointed. The Mini 2 certainly is smaller, with a screen that's half an inch lower in size, but that still leaves it as a mid-sized handset, so it's not exactly tiny.
Beyond that its screen is also lower resolution, it's far less powerful, has a smaller battery, a totally different approach to the camera and less built in storage. Even the design is a little different as while the two phones look similar and both look great, some plastic creeps into the body of the HTC One Mini 2, making it look slightly less premium.
But then given that it's also a fair bit cheaper than the HTC One M8 all of these differences are to be expected and it brings a hit of style to the middle of the market.