Huawei Ascend P7 vs Huawei Ascend P6 – What are the differences?
9 May 2014 by Kevin Thomas
While Huawei is still a relatively small time smartphone manufacturer in the UK it does big business in China, and as ever more of its handsets reach these shores it's gradually expanding its reach and making a name for itself in the west.
The latest of those handsets is its new flagship, the Huawei Ascend P7, but how is it different from last year's phone, the Ascend P6? Read on to find out.
Build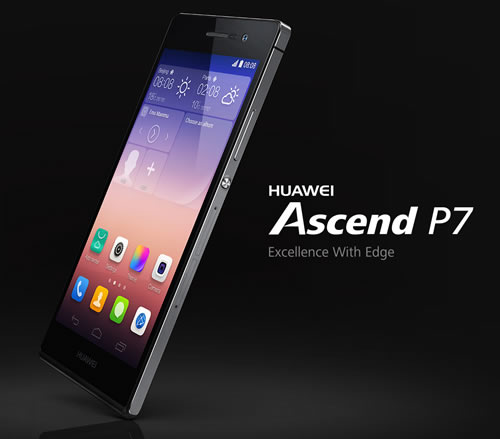 The Huawei Ascend P7 and Huawei Ascend P6 have similar but not identical designs. They both have rectangular bodies with a metal frame and a distinctively curved bottom edge. They're both incredibly slim too, with the Ascend P7 coming in at just 6.5mm and the Ascend P6 a wafer thin 6.2mm.
All of that adds up to make them among the most premium and distinctive looking Android phones available, which is a big win for such an unknown company.
Aside from the Ascend P7 being slightly fatter and slightly heavier (at 124g to the Ascend P6's 120g) the only real design differences are the placement of some of the ports. The headphone port is on the side of the P6, which is a slightly awkward position, but it's been moved to the top of the P7, while the micro USB port is on the top of the P6 but the bottom of the P7.
Display
Both handsets have IPS LCD displays, but while the Ascend P6 has a 4.7 inch 720 x 1280 display with a pixel density of 312 pixels per inch, the Ascend P7 has a 5.0 inch 1080 x 1920 display with a pixel density of 441 pixels per inch. So the screen on the P7 is both bigger and sharper.
It's also better protected as it uses Gorilla Glass 3, while the Ascend P6 uses the original version of Gorilla Glass.
Power
The Huawei Ascend P7 has a 1.8 GHz quad-core HiSilicon Kirin 910T processor and 2GB of RAM. That's not a make of processor that's particularly known on these shores but in practice the Huawei Ascend P7 feels roughly as powerful as the original HTC One. In other words it's not up to the standard of most current Android flagships, in fact it's about a year behind, but it's still a pretty slick performer.
The Huawei Ascend P6 has a 1.5 GHz quad-core K3V2 processor and 2GB of RAM. Performance wise the Ascend P7 doesn't feel like a huge upgrade, though there are instances of lag on the Ascend P6, which is rare on the P7, so it's a noticeable difference.
Camera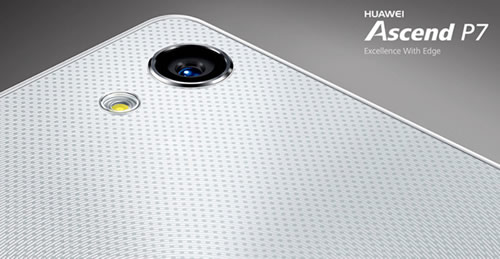 The camera has seen a larger change between the two handsets. The Huawei Ascend P7 has a 13 megapixel main snapper with a Sony BSI sensor. There are a bunch of shooting modes and it can take some good pictures, though it's not quite up there with the best cameras in smartphone land.
In some ways the front facing camera is more interesting as that has an 8 megapixel sensor, making it far better for selfies and video calls than most smartphones.
The Huawei Ascend P6 has just an 8 megapixel sensor on its main camera. It's capable of some reasonable photos but feels distinctly mid-range. The Ascend P6 pulls a similar trick for the front facing snapper though, with a 5 megapixel sensor allowing it to take some impressively detailed selfies, though not as good as what the Ascend P7 can manage. Both phones can also shoot 1080p video at 30fps.
Battery
The Huawei Ascend P7 has a 2500 mAh battery quoted for up to 422 hours of standby time or 14 hours of talk time, while the Huawei Ascend P6 has a 2000 mAh battery which can theoretically last for up to 315 hours of standby time or 14 hours and 30 minutes of talk time. So on standby the Ascend P7 will last a lot longer but in use the Ascend P6 may actually slightly outlive it.
OS
The Huawei Ascend P7 runs Android 4.4.2 KitKat, while the Huawei Ascend P6 is stuck on Android 4.2.2, though an upgrade is planned, at which point they'll both be up to date in that sense. However while the Ascend P7 runs the latest version of the company's Emotion UI (version 2.3), the Ascend P6 is stuck on version 1.6.
Thankfully there's not a huge difference between the two versions, though it's one of the more locked-down manufacturer overlays in both incarnations and doesn't even have an app drawer, with all your apps living on your home screens instead.
Storage
The Huawei Ascend P7 comes with 16GB of built in storage alongside a microSD card slot which supports cards of up to 64GB, while the Ascend P6 has exactly half that, with 8GB built in and support for 32GB microSD cards.
Conclusion
At first glance the Huawei Ascend P7 and the Huawei Ascend P6 seem like remarkably similar handsets. The design is almost identical and in fact the Ascend P7 is slightly heavier and thicker surprisingly. Both have IPS LCD displays, quad-core processors and 2GB of RAM and they have similar battery lives and both run Android 4.4.2.
Yet there are enough differences between them to potentially justify buying the more expensive Ascend P7, which is set to sell for around £370, while the Ascend P6 can be picked up for around £220.
The Ascend P7 has a faster processor, a bigger, higher resolution display, far better cameras on both the front and back and more storage space.
Another huge difference is that the Ascend P7 supports both 4G and NFC, while the Ascend P6 supports neither.
Either phone is well worth buying, its premium design makes the Ascend P6 particularly appealing as a mid-range device, as it helps it stand out in a sea of mostly bland plastic phones at that price range.
The Ascend P7 on the other hand looks and feels every bit a flagship and while it might not quite have the specs to match it's also priced around £100 cheaper than the likes of the HTC One M8 and the Samsung Galaxy S5.
Have you read our Ascend P6 review?