New Huawei tablet looks set to take on Google's Nexus 7
5 Feb 2014 by Simon Thomas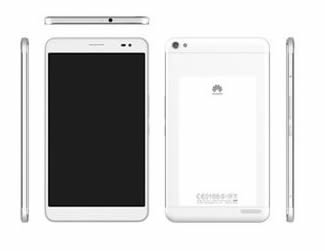 Huawei's MediaPad X1 looks like a true rival to Google's Nexus 7.
Chinese manufacturer Huawei are about to unveil a new tablet that looks destined to take on Google's Nexus 7.
The new tablet, called the Huawei MediaPad X1, has already achieved certification in China and should be announced in the next few days. But what do we know about the 7-inch Android tablet?
Well, the MediaPad X1 display runs at a resolution of 1920*1200 pixels, which is exactly the same as Google's tablet. Importantly, Huawei have made their new tablet thinner (7.5mm) and lighter (239g) than their potential rival and it also looks well designed (pictured above).
The new tablet is powered by a Hisilicon 910 Kiri quad-core processor running at 1.6GHz, has 2GB of RAM and a Mali 450GPU - which should make it more than a match for the Nexus 7. You also get a rear-facing 5 mega-pixel camera and a front-facing 1.3 mega-pixel snapper for video calling.
Somewhat disappointingly, the Huawei MediaPad X1 comes pre-loaded with Android Jelly Bean (4.2.2) rather than KitKat and the version listed only supports 3G and WiFi - but there could also be a 4G LTE model in the works. On-board memory wasn't given, but we do know it'll support microSD cards.
On paper the Huawei MediaPad X1 has what it takes to rival Google's Nexus 7 and its success is dependent on the price-point. If Huawei don't significantly undercut the Nexus 7's price we can't see the MediaPad X1 proving to be a success in Western markets.
Would you be tempted to pickup the Huawei MediaPad X1 over a Google Nexus 7? How about if the price was £50 lower? Let us know your thoughts by leaving a comment below.
In the market for a 7-inch tablet?