LG G Pro 2 Close Up
26 Feb 2014 by Kevin Thomas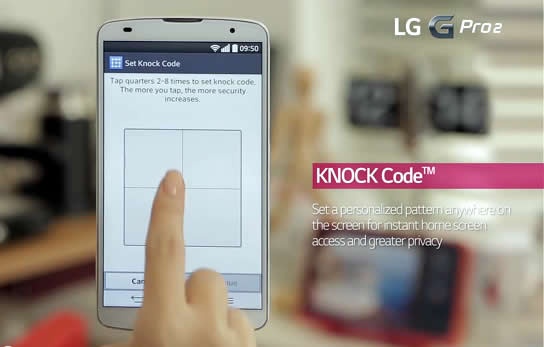 LG made a splash at MWC by showcasing the G Pro 2 which became the latest addition to the G Pro phablet range. The G Pro 2 was officially launched in Korea on 13th February and builds on the success of the original LG G Pro which was launched back in January.
LG now gives us the chance to have a close up look of its latest phablet. The video below looks at a number of features and gimmicks. One word of caution the clicking sound in the video may drive you bonkers, so maybe turn off the sound.
Firstly we see how "KNOCK Code" works and shows you how to setup personalised patterns on the screen for instant homescreen access and greater privacy.
Next comes "Magic Focus" which makes your images brighter. You can see in the video how it provides selective refocus to make selected areas stand out. Meanwhile, Mini View gives you full control over the full screen.
"Dual Browser" gives you yes the chance to have two browsers open at the same time. You can drag and drop content from one window to the other. Finally "Content Lock" keeps your private information secure with password protection.
The LG G Pro 2 is due to go on sale in the UK in March and you can pre-register your interest here.
Looking to find out more about the LG G Pro 2?