LG G Pro 2 phablet launches in Korea and will be showcased at MWC
13 Feb 2014 by Kevin Thomas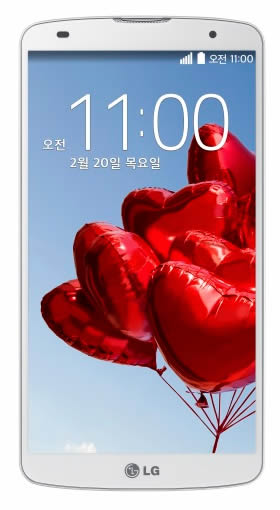 LG G Pro 2 arrives in Korea and will make an appearance at Mobile World Congress
The LG G Pro 2 phablet has been officially unveiled in Korea and is the successor to the handset that won the title of "Best Smartphone of MWC 2013", the LG G Pro.
The LG G Pro 2 is clearly going to be a direct competitor to the Galaxy Note 3 which joined Samsung's 10 Million Seller Club back in December.
The phablet will ship with Android 4.4 KitKat and come with a 5.9-inch Full HD IPS and a display resolution of 1920 x 1080 which equates to a ppi of 373.
Processing power for the LG G Pro 2 comes from its Snapdragon 800 2.26 GHz quad-core processor along with a Adreno 330 Graphics processing unit.
The G Pro 2 has an impressive 3GB of DDR3 RAM and will come with a choice of 16GB or 32GB of on-board memory and also comes with a microSD slot. Connectivity includes: 4G LTE, NFC , Bluetooth Smart Ready and WiFi.
As you may expect, there are two snappers. The main camera weighs in at 13 megapixels and features OIS+. More on OIS+ can be seen here. The secondary video calling camera is 2.1 megapixels.
The G2 Pro includes a neat feature called Knock Code. Knock Code lets you power on and unlock the phablet by tapping the screen using one of 86,367 "knock" combinations. Thanks to LG's intelligent algorithm and advanced hardware, the knock pattern can be entered on any area of the screen — whether the display is turned on or off — using anywhere from two to eight taps.
The LG G Pro 2 is available in Korea but there was no news when it would arrive in the UK, but we should learn more during Mobile World Congress where it will be showcased on LG's booth.
We do know that it come in three colours: Titan, White and Silver. Pricing details were not released.