LG G2 Mini - Price, Specification and Release Date
30 Apr 2014 by Kevin Thomas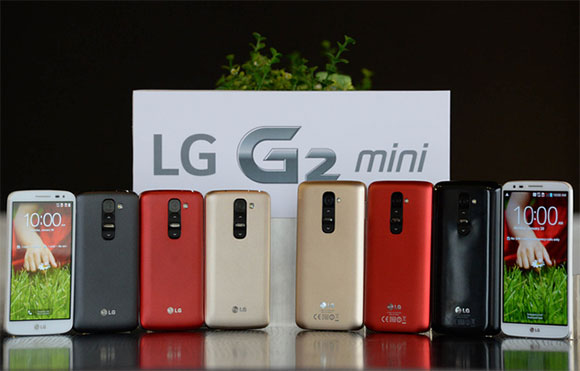 LG took everyone by surprise with the LG G2. It was a handset packed full of high end hardware and innovative features and it really put LG on the map in the west. But with a 5.2 inch screen it was also a little big for some people.
It's those people that LG has in mind with the LG G2 Mini, a phone which takes many of the good things from the LG G2 and puts them in a smaller case. But the size isn't the only thing that's changed, so read on to find out everything there is to know about the LG G2 Mini.
LG G2 Mini Specification
The LG G2 Mini isn't quite a match for its big brother in the specs race, but that isn't to say that it's lacking in power either. Its 1.2 GHz quad-core Snapdragon 400 processor and 1GB of RAM place it firmly among the mid-range handsets of the world. It's reasonably powerful but noticeably less slick and speedy than the LG G2 or other high end phones.
Its 4.7 inch screen is half an inch smaller than the G2's but certainly not what we'd conventionally call mini. It uses an IPS LCD display and has a resolution of 540 x 960, giving it a pixel density of 234 pixels per inch. That's not bad, but distinctly mid-range once again, though it does at least have quite a bright display and reasonable contrast.
The build is much the same as on the G2. It has a plastic construction with the unique rear-facing buttons. It doesn't look great and those buttons are very much a love it or hate it design decision, but if you get used to them they can prove more comfortable to operate than buttons on the side or front of a phone would be.
The G2 Mini has a capable 8 megapixel camera along with a 1.3 megapixel front facing one and it can shoot 1080p video.
It comes with 8GB of storage and a microSD card slot and it supports Wi-Fi, 3G, Bluetooth 4.0, infrared and there's a 4G version too.
LG G2 Mini Price and Release Date
The LG G2 Mini doesn't yet have a confirmed UK price or release date, but it's up for pre-order in some places with prices translating to around £300, while it's expected to land on these shores sometime in the next few months.
You might also be interested in: LG G3: What we know about the smartphone so far

LG G2 Mini Full Specification
Dimensions : 129.6 x 66 x 9.8mm
Weight: 121g
Screen size: 4.7 inch display
Screen Resolution: 540 *960 pixels
Pixels Per Inch (PPI) : 234
Processor: 1.2GHz Quad Core Qualcomm Snapdragon 400
RAM: 1GB
Battery capacity : 2440 mAh
Onboard Memory: 8GB (microSD support)
Camera : 8 megapixel
Operating system: Android KitKat
Ultrafast / 3G / 4G LTE : Yes / Yes / Yes
Bluetooth / NFC : Yes / No
Colours : Black, White, Red, Gold
Launch Date: Summer 2014
Price : £300 (TBC)