LG G3 unboxing: A video look at what's inside the box
4 Aug 2014 by Kevin Thomas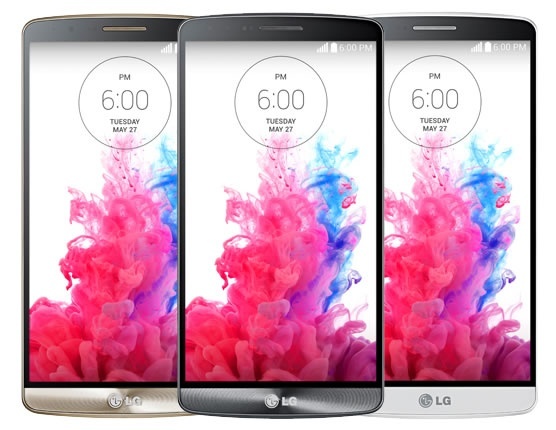 LG has got in on the growing trend of unboxing videos, by opening up the G3's box and showing you what's inside. So if you're curious about the LG G3 and about what comes with it then read on.
Upon opening up the box for the LG G3 you'll find the phone front and centre at the top. Scoop that out and take a moment to appreciate the surprisingly convincing metallic effect on the back cover, with a matte overlay to ensure that it stays fingerprint free.
Peel off the protective cover and you'll also notice the impressively large 5.5 inch True HD IPS+ LCD 1440 x 2560 display with a pixel density of 534 pixels per inch. This is arguably the phones crowning glory as it's the first mainstream handset with a QHD screen and while it's on the large size the ultra-thin bezels ensure that it's still just about small enough to use with one hand. In all it's a 146.3 x 74.6 x 8.9mm and 149g, so there's very little wasted space.
Open up the next section of the box and you'll find a quick start guide to get you upand running. Under that there's another piece of cardboard that you need to fold out and beneath it you'll find the battery, micro USB to USB cable, wall charger and earphones, all in separate sealed bags.
You'll probably want to test out the earphones sooner rather than later as the LG G3 supports high resolution audio, but first you've got to get the phone up and running. As you can see from the video the back cover is easy to take off, and once you've put the battery in (which supports up to 25 days of standby time or up to 22 hours of talk time) it's easy to clip back into place.
You'll also find a microSD card slot just above where the battery goes, so while you'll have to take the back off to swap cards you won't have to take the battery out. Not that you're likely to need more than one card anyway, as with 16GB of built in storage coupled with support for cards of up to 128GB it should take a long time to run low.
You'll also notice the return of the rear key from the LG G2, but this time it's better, thanks to improved dimensions and textures and it certainly looks more stylish this time around. Switch the phone on and you'll be greeted with the lock screen, which you can swipe away.
Then the basic operation is much like any other Android phone, as the video shows. Swipe left or right to move between home screens, tap the home button to go back to the main one and tap the app drawer button to see all of your apps. There's a lot more to it than that, but getting to grips with the basics should take no time, which helps the LG G3 make a great first impression.