Motorola Moto G 4G vs Nokia Lumia 635 : Battle of the 4G phone cheapos
2 Jul 2014 by Simon Thomas



Motorola Moto G 4G vs Nokia Lumia 635
It's getting easier all the time to find a decent phone without spending very much. Nokia has long been delivering reliable hardware at low price points and Motorola has recently started pushing into the territory with the enormously successful Moto G and the even cheaper Moto E.
Two of the most recent affordable phones to hit the market are the Nokia Lumia 635 and the Moto G with 4G- a tweaked and improved version of the Moto G. So what are the differences between these two handsets? And which is the best? Read on to find out.
Build
There are certain similarities to the designs of these two handsets as both have curved plastic backs, however the Nokia Lumia 635 is rather more colourful, with choices such as bright orange and bright green, while the Motorola Moto G 4G comes in just white or black.
There are other differences too. The Moto G with 4G is 129.9 x 65.9 x 11.6mm and 143g, while the Nokia Lumia 635 is 129.5 x 66.7 x 9.2mm and 134g. So the Moto G with 4G is ever so slightly longer and wider, as well as being quite a bit thicker and heavier, but it doesn't look any worse for it, in fact if anything we'd be inclined to say that the Moto G with 4G is the slightly nicer looking of the two and certainly the more unique, as the Lumia 635 just looks like any other Lumia.
Display
Both phones have 4.5 inch IPS LCD displays, but while the Moto G with 4G has a 720 x 1280 screen with a pixel density of 326 pixels per inch, the Nokia Lumia 635 has a 480 x 854 screen with a pixel density of 218 pixels per inch.
So it's far lower resolution than Motorola's handset and though it has pretty good contrast thanks to its ClearBlack technology the Moto G with 4G has a noticeably better screen overall. Both displays also use Gorilla Glass 3 to help them resist scratches.
Power
Both the Moto G with 4G and the Lumia 635 have 1.2GHz quad-core Snapdragon 400 processors, but while the Moto G with 4G has 1GB of RAM the Lumia 635 only has 512MB. So on paper the Moto G is the more powerful of the two and if anything we'd say that seems true in practice too, but there's not a whole lot in it. Both phones deliver fairly smooth and slick performance, especially for the price.
Camera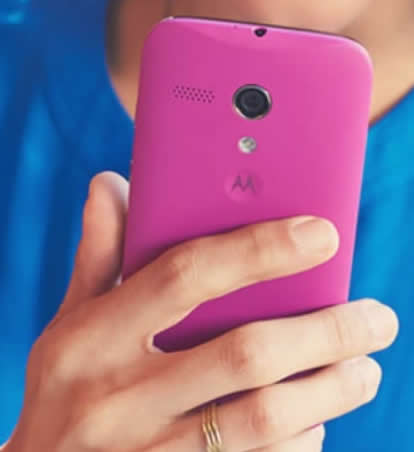 While Nokia is usually known for its cameras, the Lumia 635 is an exception. It only has a 5 megapixel sensor for a start and there's no LED flash or front facing camera and unlike most Windows Phone handsets there's no dedicated camera button either. In optimal lighting conditions it can still take some reasonable snaps but it struggles in low light and the lack of a front facing snapper means selfies and video calls are a non-starter.
The Moto G with 4G is also stuck with a 5 megapixel sensor, however it does have an LED flash, so it's far more capable when there's not much light. It also has a 1.3 megapixel front facing camera, which won't be winning any awards but is a whole lot better than nothing.
Both handsets can also record video in 720p at 30fps but the Moto G trumps the Lumia 635 here too, as it features stereo sound recording.
Battery life, memory and connectivity
The Motorola Moto G with 4G has a 2070 mAh battery which has a battery life of up to 24 hours with mixed usage according to Motorola. The Nokia Lumia 635 on the other hand has a smaller 1830 mAh battery with a talk time of up to 14 hours or a standby time of up to 648 hours. In practice both phones are likely to last you a day, but not much more.
The Moto G with 4G comes with a choice of 8 or 16GB of built in storage along with a microSD card slot which supports cards of up to 32GB. The Nokia Lumia 635 only has 8GB of storage built in, but it has a microSD card slot which supports cards of up to 128GB.
Their connectivity options are much the same. Both phones support Wi-Fi, 3G, Bluetooth 4.0 and 4G LTE. 4G is still far from a universal feature on low end handsets so that's quite a big selling point.
Motorola Moto G 4G vs Nokia Lumia 635 – Conclusion
Both the Moto G with 4G and the Lumia 635 are admirable entry-level handsets and the biggest difference between them is the operating system they run, with Android 4.4 installed on the Moto G and Windows Phone 8.1 running on the Lumia 635.
They're priced similarly. The Moto G with 4G starts at around £160 and while the Nokia Lumia 635 isn't available quite yet it's expected to sell for around £145, so it's marginally cheaper, but you arguably get quite a lot less for your money, as it's less powerful, has a worse camera, a lower resolution display and less built in storage, though it supports bigger microSD cards.
All of which for our money makes the Moto G with 4G a better bet, though the Lumia 635 is one of the first handsets that you'll be able to experience Windows Phone 8.1 on, which is a big selling point in its own right.
Have you read our Motorola Moto G and Nokia Lumia 635 reviews?