Motorola takes the wraps off the 360, sort of
3 Jul 2014 by Kevin Thomas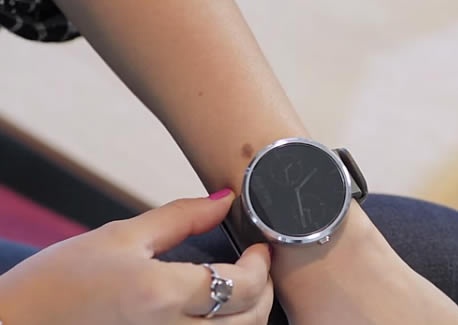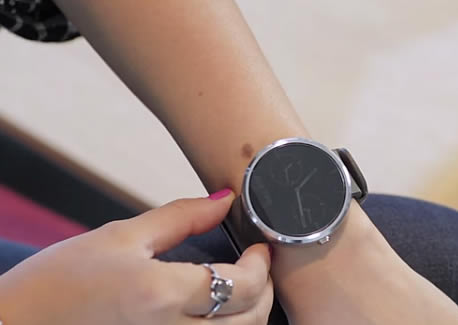 Android Wear was arguably the highlight of this year's Google I/O, but the software is only half the story as you also need something compelling to run it on. By all accounts the Moto 360 is that device. It's been the subject of both leaks and official teasers for months now and all eyes were on I/O for its official unveiling.
Unfortunately that didn't really happen. The rectangular and arguably slightly ugly LG G Watch and Samsung Gear Live were used to show off Android Wear and the two can now be pre-ordered, but the Moto 360 won't be out till later this summer.
However it wasn't totally absent, it was briefly shown off at the event and Motorola even released a video showing it in action, so while we can't get our hands on it just yet we do have a clearer picture of it than ever.
The most immediately obvious thing about the Moto 360 is that it has a round face, while the current competitors are all square or rectangular. By having a round face it instantly looks more like an actual watch as well as being eye-catching because screens are rarely round.
It's a good looking smartwatch too, with a stainless steel band in either silver or black and a leather strap. It's unavoidably large and a little on the chunky side but it's almost certainly the best looking smartwatch we've seen so far.
As well as giving you a good look at it, Motorola's video above also highlights some of its features. To turn it on you either push a button on the side or tap the screen. Then you're presented with a watch face and there will be a number of these to choose from, with more to be added after launch.
Below the face you'll see a snapshot of the most important recent notification. Swipe up and you can see it in detail and if you keep swiping up it will cycle through other notifications and these can be anything from reminders to texts, emails and weather updates.
If you swipe from left to right you can dismiss a notification, while swiping from right to left will give you more information and let you action or reply to a notification.
As well as using the touchscreen to interact with the Moto 360 you can also say 'Ok Google' at any time to access voice controls and then you can ask it all the same sorts of things that you can ask Google Now on a phone, be it asking for information from the internet or giving it commands, for example to leave yourself a memo.
There are still questions surrounding the Moto 360, particularly regarding the back of the device, which it's thought may feature a wireless charger and possibly sensors of some kind. It's also not yet known exactly when the device will launch, other than just later in the summer, but if you're tempted by Android Wear it might be worth the wait.