Reduce your data usage with Google Chrome for Android and iOS
20 Jan 2014 by Simon Thomas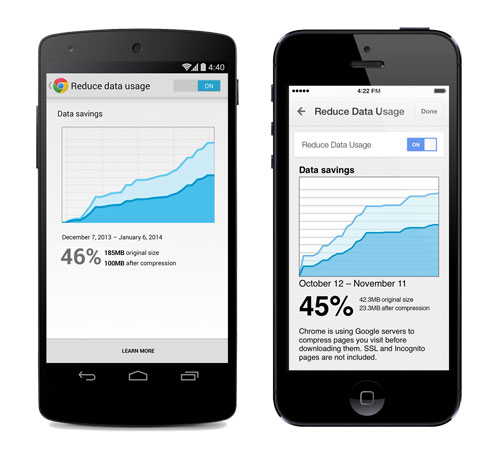 Those struggling to stay inside their monthly data allowance, or racking up huge costs browsing, might want to download the new version of Google Chrome for Mobile.
The latest version of the popular browser for iOS and Android introduces a new "reduce data usage" feature, which cuts data usage by up to 50 per cent. It achieves the clever feat by sending web pages to Google's server for compression before displaying them on your smartphone or tablets display.
One downside to the new feature is that it'll take slightly longer for pages to load, but the trade-off could be worth it for those with limited monthly data allowances, or Pay As You Go customers. After downloading Chrome for Mobile the new data saving feature can be enabled in "Settings > Bandwidth management > Reduce data usage".
Those downloading the iOS version of Chrome for Mobile will now also benefit from the 'Translate' feature which debuted on the Android version last year. While, those on Google's Android platform get a new "add to homesreen" option enabling you to put your favourite website on your devices' home-screen.
You can download the latest version of Chrome from iTunes or Google Play, while those who already have the browser installed should receive an automatic update notification.