Nokia Asha 302 and Asha 303 Get Mail For Exchange
3 Jul 2012 by Simon Thomas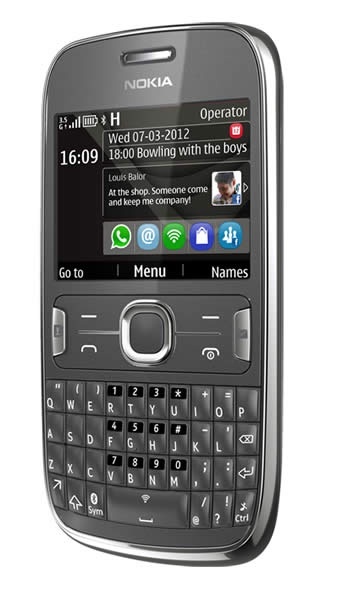 Owners of the Nokia Asha 302 and the Asha 303 can now download Nokia's Mail For Exchange application from the Nokia Store.
Nokia Mail For Exchange enables users to access their corporate emails, calender and contacts on their smartphone. The addition of support for Mail For Exchange makes both Nokia Asha smartphones perfect for businessmen because both have a QWERTY keyboard.
Mail For Exchange uses Microsoft's ActiveSync protocol to ensure synchronisation between Office email servers and smartphones. The end result is that users can check their work email on their smartphone, as well as having access to all their contacts and their calendar.
The Nokia Asha 302 (pictured above) adopts a design very similar to Blackberry smartphones with a full QWERTY keyboard sitting below the devices touch-screen display. We reviewed the Nokia Asha 302 earlier this year where we concluded that "The Nokia Asha 302 is a basic smartphone with good social and email apps". You can read 3G's full review of the Nokia Asha 302 by clicking here.
The Nokia Asha 302 is available to buy from Three where you can get the smartphone free on contracts starting at just £15 a month. Click here to view all of Three's Nokia Asha 302 deals.