Nokia Lumia 630 will be one of first Windows Phone 8.1 smartphones
25 Mar 2014 by Simon Thomas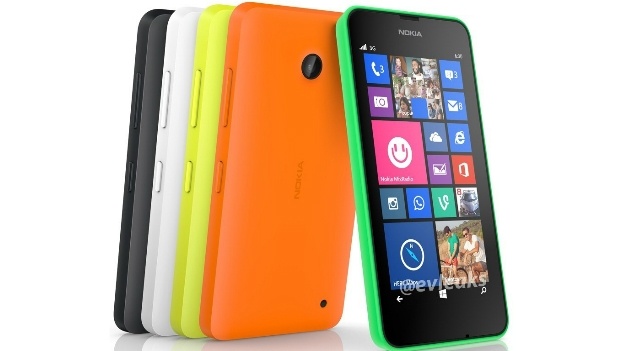 Nokia have been pretty busy finalising their merge with Microsoft and consequently they havn't released a new smartphone for a while now. However, that's all set to change in the next couple of months with a new breed of Windows Phone 8.1 Lumia smartphones set to arrive.
One of the new smartphones is the Nokia Lumia 630, which is set to replace the popular Nokia Lumia 620. It's an affordable smartphone that will be one of the first devices to come pre-loaded with Windows Phone 8.1.
An official press image of the smartphone (posted above) was leaked by EVLeaks. As you can clearly see it continues Nokia's trend for vibrant colours and the design resembles the recently unveiled Android-powered Nokia X range.
In terms of specification it's rumoured to have a 4.3 inch touch-screen display (854*480 pixels) and will be powered by a dual-core 1.7Ghz Snapdragon 400 processor backed up by 1GB of RAM. Apparently, it will also have a 5 mega-pixel camera and a version could be available with LTE support (Lumia 635).
We also know it'll be a dual-SIM smartphone which confirms that it'll come pre-loaded with Windows Phone 8.1 (as the feature isn't currently supported in Windows Phone 8).
The Nokia Lumia 630 is expected to be unveiled at Microsoft's Build Conference next month (April 2nd - 4th). It's expected to be joined by a number of other Windows Phone 8.1 smartphones, possibly including the rumoured Nokia Lumia 530 and a new flagship Nokia Lumia.