Flagship Nokia Lumia 929 Icon is gunning for Apple's iPhone 5S
10 Jan 2014 by Simon Thomas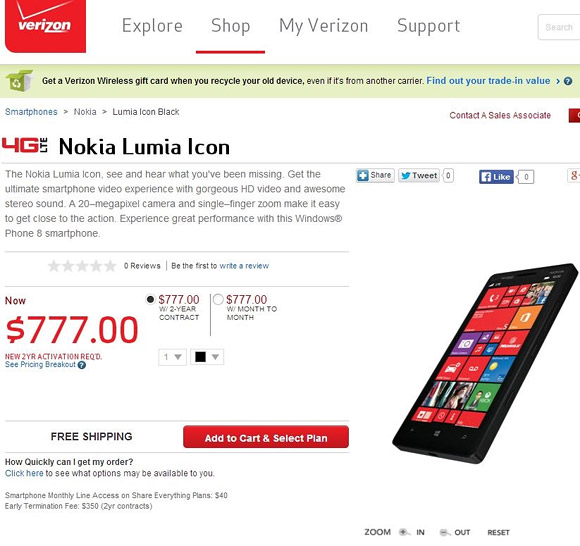 It's high-end spec and premium design will put it in direct competition with Apple's iPhone 5S

Back in December we brought you news that Nokia were about to launch a new flagship smartphone called the Nokia Lumia 929. The information originated from Twitter user EVLeaks who posted a press image of the smartphone (pictured below) and suggested that the smartphone's arrival is imminent.
Now the US operator Verizon have accidentally put a product page (now taken down) for a new Nokia smartphone called the Nokia Lumia Icon. After a quick glance at the picture and details of the specification it quickly became apparent that it's the smartphone previously referred to as the Lumia 929.
The listing for the smartphone revealed that Nokia's new flagship smartphone has a 5" touch-screen running at a 1920*1080p resolution , is powered by a quad-core Snapdragon 800 processor, has a 2,420mAh battery and features Nokia's 20 mega-pixel Pureview camera with optical image stabilisation.
That's all we could glean about the new 4G smartphone, but what's key to note is that - aside from the smaller battery - it has an identical specification to Nokia's Lumia 1520 phablet. So it's probably pretty safe to assume it'll also have 2GB of RAM and 32GB of on board memory, albeit enclosed in a more compact and lightweight exterior.
Nokia also seems to have moved away from their vibrant design of recent Lumia smartphones and gone for a more refined appearance reminiscent of the Nokia Lumia 925 - which we adore here at 3G.co.uk and it featured at the top of our list of the best Windows smartphones.
The Lumia 929's understated design incorporates a metallic band, which gives it that all-important premium finish which is a must if you want to compete with the likes of Apple's iPhone 5S and the HTC One.
We are already very confident that the Nokia Lumia 929 (or Nokia Icon) will be the best Windows smartphone on the planet. But could it be the first premium Windows smartphone to truly rival Apple's iPhone range?
We think so - it's got a great specification, a stylish design and should be priced a little lower than Apple's flagship iPhone 5S (the listing suggests the Nokia Icon will cost $777 (around £472) on a 2-year contract, but we sense that's just a placeholder).
Nokia are expected to unveil their new flagship smartphone later this month, or possibly early next month. As soon as we get more details about the Lumia 929 you'll be the first to know. Until then feel free to share your thoughts on Nokia's new smartphone by leaving a comment below.