Office for iPad now available to download free on iTunes
31 Mar 2014 by Simon Thomas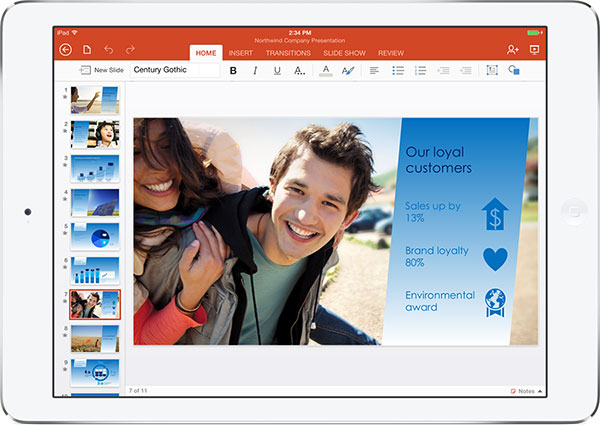 Office for iPad has finally landed and is available to download free on iTunes on all iPads running on iOS 7 or later.
With the free version of the application you can view Word, Excel and Powerpoint files. However, in order to create and edit documents you'll need an Office 365 subscription which costs £7.99 a month or £79.99 a year.
An Office 365 subscription not only gets you access to 5 copies of Office applications on tablets, Mac and PC. You'll also get 20GB of online storage and access to Office Mobile apps for iOS and Android.
Users can currently sign up for a free 30 Office 365 trial at http://www.office.com/try.
Fully optimised for iPad
Office for iPad has been created from the ground up for Apple's tablet. The large touch areas on the Ribbon and in the menus make it easy to create, edit and format documents using touch alone. If you prefer you can even use voice dictation to draft a Word document.
The application is also perfectly integrated with the desktop/Mac versions of Office. The format of any documents edited using Office for iPad will remain unchanged and they can be saved to Microsoft's cloud service for ease-of-management and sharing.
OneDrive integration enables multiple users to work on a document or presentation at the same time. Changes will be tracked and you can can accept or reject changes on an iPad, while it's even possible to have threaded comments.
Want to keep up to date with the latest mobile news, reviews and exclusive deals? Follow 3G on Facebook, Twitter or Google+