OnePlus One delivers Galaxy S5 specs at half the price
24 Apr 2014 by Simon Thomas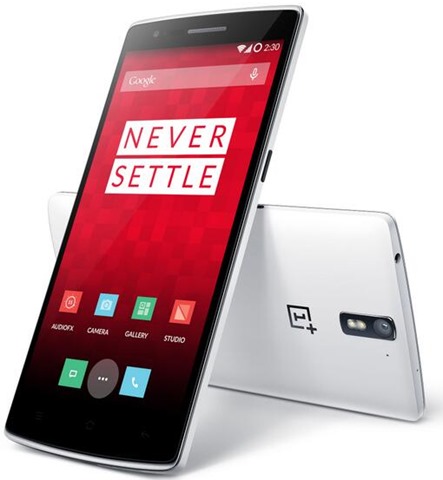 There is a new challenger to the Samsung Galaxy S5, HTC One M8 and Sony Xperia Z2 and it's called the OnePlus One.
The OnePlus One has a specification that can rival anything on the market, but costs half as much as similarly specced mobiles, such as the Galaxy S5, Xperia Z2 and HTC One M8.
The smartphone is fronted by a 5.5-inch 1080p IPS display that delivers a 440ppi (pixels-per-inch). It's powered by a 2.5GHz quad-core Snapdragon 801 processor backed up by a whopping 3GB of RAM, which upstages all of its rivals apart from the Z2 (which has the same CPU and RAM).
On the back you'll find a 13 mega-pixel Sony camera capable of recording 4K and slow-motion (720p) videos and selfies have never have looked as good thanks to the front-facing 5MP snapper. Models are available with either 16 or 64GB of onboard memory, but neither has a microSD card slot.
The OnePlus One, which is assembled by Oppo, is the first smartphone to come pre-loaded with the CyanogenMod 11S operating system, which is built around Android KitKat (4.4.2). Importantly you still get access to Google Play and all the Android Apps you've come to love.


CyanogenMod 11S
When you cut costs the risk is that you design a bulky smartphone that isn't aesthetically pleasing, but that's not the case with the OnePlus One. It's a slimline smartphone (8.99) with minimal bezels and the aluminium frame gives it a premium appearance.
In a novel promotion in the US the first 100 OnePlus One smartphones will be offered for just $1, but you'll need to smash up your current smartphone first (Details here). The rest of us can pickup the 4G smartphone for £229 (16GB model) or £269 (64GB model) from April 25th.
So far so good and the OnePlus One is looking like a game changer, but we'll have to get our hands on the smartphone before we can make our final judgement. It's going to be the first of many smartphones launched by OnePlus, who are a Chinese company with big ambitions.
We'll be covering the OnePlus One in more detail over the coming weeks, including posting our review of the smartphone. Follow us on Google+, Facebook or Twitter to keep up to date with our latest news and get exclusive deals.