Android Coffee Table: Yes, that's right we said table!
12 Mar 2014 by Simon Thomas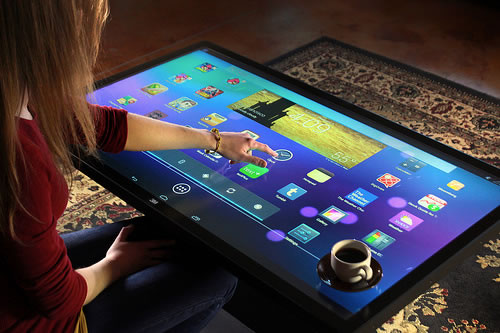 Tablets have been increasing in size over the last year, but Ideum and 3M have taken things to a whole new level with their Platform 46 Coffee Table.
Essentially, it's an over-sized tablet with a 32-inch or 46-inch display that runs on the Android platform (Jelly Bean 4.1). It supports all the Android apps you love so you can browse, social network and even play games on the novel entertainment device.
It's 1080p LCD display features chemically-strengthened glass and is waterproof (IP54 rated). Inside the aluminium base you'll find a compact PC with an Intel i7 3.7GHz Hyper-threaded Quad Core Processor, 16GB of RAM, 500GB Hard Drive and both WiFi and Ethernet connectivity.
The Android version of the Platform 46 Coffee Tablet will be available to buy later in 2014. Prices start at $6,950 (~£4200) for the 32-inch model, so initially it's likely to be more of a corporate based product or reserved for those with more money than sense.
Ideum and 3M already have Windows 8 Multitouch Coffee Tablets available to buy or rent in either 32-inch or 46-inch versions and later this year they will launch dual-boot versions (Windows 8 and Android).
What do you think of the Platform 46 Coffee Tables? Are they ridiculous or super cool? Let us know your thoughts by leaving a comment below.