Samsung Galaxy Note 8.0 Snapped At Samsung Launch Event
15 Feb 2013 by Simon Thomas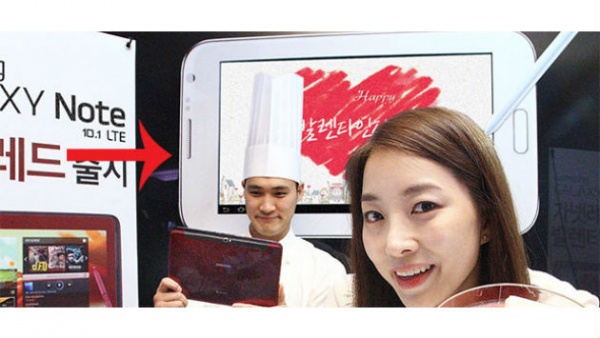 The Samsung Galaxy Note 8.0 has already appeared in a couple of leaks since the start of the year and now Samsung themselves appear to have leaked an image of the unconfirmed tablet.
Samsung currently held a launch event in Korea for the Galaxy Note 10.1 LTE where eagle eyed industry sources spotted the image posted above. In the background, next to the big arrow, appears to be an image of the Samsung Galaxy Note 8.0 !
Samsung's Galaxy Note 8.0 is the success to the Galaxy Note 7.7 and sits between the Galaxy Note 2 and the Galaxy Note 10.1 in Samsung's range. That puts it in direct competition with Apple's iPad Mini and Google's Nexus 7 in what is quickly become a crowded marketplace.
What do we know about the Galaxy Note 8.0's specification ?
Thankfully, previous rumours have given us plenty of detail on what to expect when Samsung unveil the Galaxy Note 8.0.
The tablet is expected to have an 8 inch touch-screen running at a resolution of 1280*720 pixels while it'll be powered by a quad-core 1.6 GHz processor and have 2GB of RAM. Samsung's tablet is thought to come with 16GB of on-board memory and will have a rear-facing 5 mega-pixel camera.
When it comes to software the Note 8.0 will come pre-loaded with Android Jelly Bean and will support Samsung's S-Pen interface. Interestingly, we've also heard that it might support voice-calling which would be that unique feature needed to standout from the crowd.
When will Samsung unveil the Galaxy Note 8.0 ?

Samsung are expected to unveil the Galaxy Note 8.0 at this years Mobile World Congress which starts at the end of the month. We'll be bringing you all the news from the event in Barcelona so keep posted to find out more !