Samsung Galaxy S4 v Samsung Galaxy S3 – Is it worth upgrading ?
28 Mar 2013 by Kevin Thomas
How much better is the Samsung Galaxy S4 than the Galaxy S3 it supercedes ? We take a detailed look.
Roughly a year ago Samsung wowed the world with the Samsung Galaxy S3, providing near unparalleled power and performance and ensuring their continued position as the dominant player in Android handsets. Now they're back again with its successor the Samsung Galaxy S4. There's no doubt that this new flagship is better than the Galaxy S3, but just how much better?
Samsung Galaxy S4 v Samsung Galaxy S3 – Build quality and durability

The Samsung Galaxy S3 isn't the best looking phone; in fact its appearance is one of the main complaints that many people have with it. A slightly curved, plastic shell is what you visibly get for your money and it just doesn't look or feel like a truly premium device. It's light too at 133g, which adds to the feeling of cheapness, and while its dimensions of 136.6 x 70.6 x 8.6mm certainly aren't bad it doesn't feel like the sleekest or slimmest of phones. However the plastic build does ensure that it's sturdier than some rivals- like the glass clad Google Nexus 4.
The Samsung Galaxy S4 improves on things in some ways but stays disappointingly close to its predecessor in others. The 136.6 x 69.8 x 7.9mm body is slightly slimmer than the S3, which is particularly impressive given that it actually has a bigger screen and more powerful tech under the hood. It also makes a move towards the premium with an attractive metal band running around the rim of the phone.
Unfortunately the bulk of the body is still plastic and the general look is much in keeping with the Galaxy S3- so it's a definite improvement, but not as much of one as we'd have liked.
Samsung Galaxy S4 v Samsung Galaxy S3 – Display
The Samsung Galaxy S3 has a 4.8 inch 720 x 1280 Super AMOLED screen with a 306 ppi pixel density. That was pretty impressive at the time, but things have moved on since then, with many phones offering greater resolutions and bigger screens. Still, 4.8 inches is a good size and 306 pixels per inch is pretty respectable, plus the Galaxy S3 has very good contrast, with vivid colours and deep, dark blacks.
The Samsung Galaxy S4 has a 5 inch 1080 x 1920 Super AMOLED screen with a 441 ppi pixel density. So it's the same screen technology (with the same incredible contrast), but it's bigger and higher resolution, creating a more impressive display overall.
Samsung Galaxy S4 v Samsung Galaxy S3 – Power
With a 1.4 GHz quad-core processor the Samsung Galaxy S3 is still a pretty impressive performer- though it's let down slightly by only having 1 GB of RAM.
However the Samsung Galaxy S4 beats it hands down with a 1.9 GHz quad-core processor and 2 GB of RAM. In fact not only is it more powerful than the S3, but the specs suggest that it may well be the most powerful phone available.
Samsung Galaxy S4 v Samsung Galaxy S3 – Camera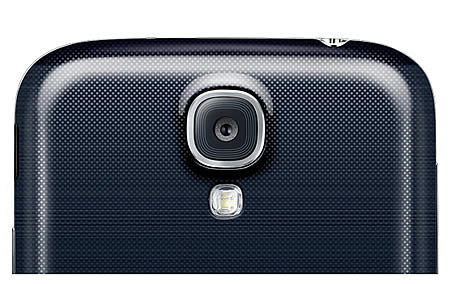 The Samsung Galaxy S3 rocks an 8 megapixel camera- the same number of megapixels as the Galaxy S2. It's a bit disappointing that they didn't up the count, but not surprising as most phones seem to have settled on 8 megapixels as the sweet spot for now. It was pretty good for the time, but it's been topped by other 8 megapixel cameras that offer superior performance, such as the ones in the iPhone 5 and Nokia Lumia 920. Not to mention the likes of the 13 megapixel Sony Xperia Z.
Thankfully the Samsung Galaxy S4 bucks the 8 megapixel trend by packing in an Xperia Z matching 13 megapixel lens, substantially topping what the Galaxy S2 offers.
Samsung Galaxy S4 v Samsung Galaxy S3 – Battery life, memory and connectivity
Samsung's Galaxy S3 comes with a 2100 mAh battery and provides up to 590 hours of standby time or 11 hours 40 minutes of talk time (when using 3G). That's a pretty respectable performance and is still above average now. Plus the battery is removable, giving you the ability to swap it out for a fully charged one if you're so inclined.
The Samsung Galaxy S4 comes with a bigger 2600 mAh battery, but Samsung haven't yet released any stats for it and it needs to drive a phone with a bigger screen and more power, so it may not go as far. Still, that extra 500 mAh is quite a jump- and like the S3 the battery can be changed, so we'll call it a draw.
Both handsets come with 16, 32 or 64 GB of on-board memory and both can be expanded with a micro SD card of up to 64 GB – potentially giving you a lot more storage space than most smartphones.
For connectivity, the two handsets are also pretty equal, as both offer 3G, GPS, NFC, Bluetooth 4.0 and potentially 4G- though right now that's only available on EE. The S4 just edges a win by also including an infrared port, allowing it to double as a remote for other devices.
Samsung Galaxy S4 v Samsung Galaxy S3 – Conclusion
Just as we expected, the Samsung Galaxy S4 beats the Galaxy S3 in just about every conceivable way, from screen size and power to build quality and camera. However while it's a clear win, the Galaxy S4 doesn't do quite as much in some areas as we'd have liked. The biggest issue is the build of the phone, which aside from a thin metal band around the edge is still just plastic. Thanks to supply shortages we're also stuck with a quad-core version- the same number of cores as the S3 (though they're substantially faster).
We really shouldn't complain though, sure we'd have loved to see Samsung do more but what they've delivered is still very possibly the best phone on the planet- and certainly a substantial upgrade over the Galaxy S3. As for everything else, the S5 is only a year away.