Samsung launches GALAXY Apps
15 Jul 2014 by Simon Thomas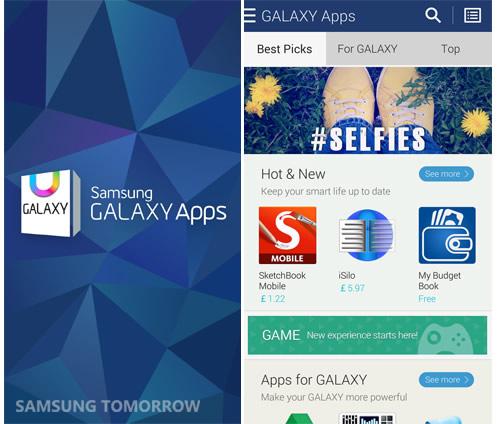 Not content with just selling astronomical numbers of smartphones, Samsung is also trying its hand at selling software and in aid of that it's launching a new app store called Samsung GALAXY Apps.

If you own or have owned a Galaxy smartphone in the past you might be aware that Samsung already had an app store called Samsung Apps, but this is newer and theoretically better.

Samsung GALAXY Apps is exclusively available to users of Galaxy smartphones and it stocks thousands of apps across various categories. Many of these are available from Google Play and other apps stores, but GALAXY apps includes exclusive discounts and promotions and there are even hundreds of exclusive apps.

The new store boasts an intuitive interface with three sections. There's 'Best Picks', which features recommended apps and promotions, then there's 'Top', which includes the most popular apps and allows you to sort them by popularity, price or date.

Finally there's 'For Galaxy' which has four subsections. These include 'Galaxy Gifts', which lists premium apps that are exclusive to Galaxy devices, 'Galaxy Essentials', which highlights must-have apps, 'Galaxy Specials', which includes apps that were created using Samsung SDK's, and 'Apps for Professionals', which is where you'll find business focused apps and services.

Won-Pyo Hong, President of the Media Solution Centre at Samsung Electronics said this of the new app store: "At Samsung, we continuously strive to create value for our customers by providing differentiated solutions and services coupled with innovative devices. Samsung GALAXY Apps is an extension of that promise, as it offers our customers exclusive apps to enrich their experience."

Samsung GALAXY Apps is available now to users of Galaxy devices in the UK and ultimately it will be rolled out to over 130 million users in 161 countries worldwide.