Samsung Unveil Quad-Core Flip-Phone In China
27 Nov 2012 by Simon Thomas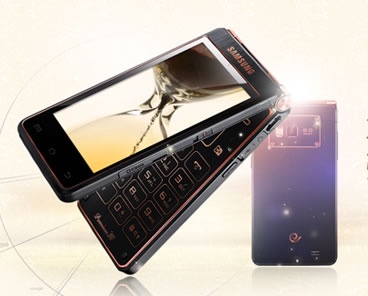 Samsung have released some cutting edge devices in the last year including the Galaxy S3 , Note 2 and the Galaxy Tab. However, they've now unveiled a device which is throwback to the design of days gone by.
That's because they've now unveiled a new flip-phone called the Samsung Galaxy SCH-W2013 in China. We can't remember the last time we saw a flip-phone and this one features the trademark folding design and alphanumeric keypad.
Even though the physical design might be retro in nature the insides are truly modern. The Galaxy W2013 has a 3.7 inch Super AMOLED touch-screen (800*480 pixels) and is powered by a 1.4 Ghz quad-core processor.
The smartphone comes pre-loaded with Android Ice Cream Sandwich and has 16GB of on-board memory. Other features include an 8 mega-pixel rear-facing camera, front-facing 1.9 mega-pixel snapper and support for WiFi and Bluetooth.
We presume that the Samsung W2013 is some kind of special edition because it's priced at $3000, which is a pretty ridiculous price. However, for those stuck in the past it could well be a price worth paying.