Samsung's Galaxy S5 takes over Heathrow Terminal 5
19 May 2014 by Simon Thomas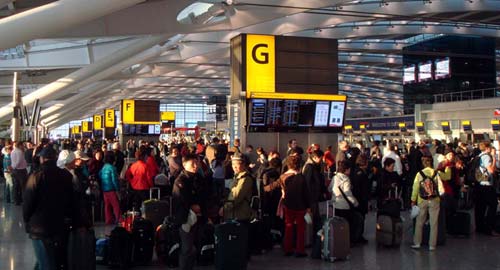 For the next two weeks Heathrow's Terminal 5 will be known as Terminal Samsung Galaxy S5.
The move is part of an unprecedented marketing stunt by Samsung, which will also see the company's flagship smartphone promoted on 172 digital panels and on signage throughout the terminal, including the entrance, lounges, security stops and even at the gate itself.
The signs will also point travellers towards Dixons Travel stores inside the terminal where the Galaxy S5 is available to buy. Those who visit the terminal's website will also be greeted by a new re-branded 'Terminal Samsung Galaxy S5' landing page.
The Samsung Galaxy S5 is a cutting-edge piece of tech and promoting it to affluent airport travellers and businessmen seems like the perfect match. This promotion also helps the smartphone standout against its rivals, which include the Sony Xperia Z2, HTC One M8 and the Apple iPhone 5S.
Just how good is the Samsung Galaxy S5?