Sony Announce the Xperia M2 as the slimmest 4G smartphone in its class
24 Feb 2014 by Kevin Thomas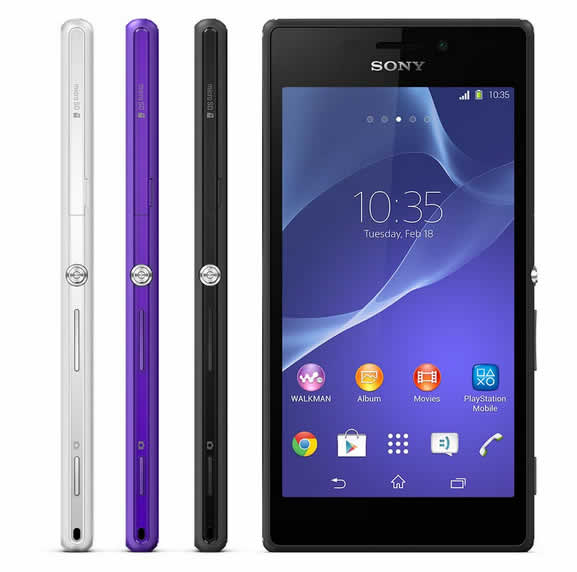 Sony say the Xperia M2 is the slimmest 4G smartphone in its class.
Sony began the announcement of the Xperia M2 by stating that it is the slimmest 4G smartphone in its class, at 8.6 mm. OK, but what else does it offer?
The Xperia M2 is a mid-range smartphone with a specification which punches beyond mid-range. It is the successor to the popular Xperia M which went on sale last June,
The M2 will ship with Google Android 4.3 (Jelly Bean) but is anticipated to be updateable to KitKat shortly after its release.
The specification kicks off with a nifty 4.8 inch qHD display with a 960 x 540 pixel resolution and a main 8MP camera with Exmor RS for mobile, with Autoscene Recognition and HDR. The camera also brings 4 x digital zoom and HD video recording (1080p).
The processing power comes from its Qualcomm Snapdragon 400 processor running at 1.2 GHz and quad-core CPUs. Memory is always important these days and ou get a modest 1GB of RAM and a tidy 8GB NAND Flash on-board memory.
Music lovers can benefit by enjoying tunes wirelessly via NFC using the SBH20 Stereo Bluetooth Headset or plugged-in with part in-ear and water-resistant Stereo Headset STH30
The Sony Xperia M2 will come in 3 colours which are black, white and purple. The smartphone will go on sale globally from April 2014. Price is currently unknown but we will track this down and update our post.
3G will be arranging a review copy to carry out our Sony Xperia M2 review and see how good this mid-range smartphone bears up.
Sony also launched the Xperia Z2 today!