Sony Xperia E1 smartphone doubles as a 100Db soundblaster
14 Jan 2014 by Kevin Thomas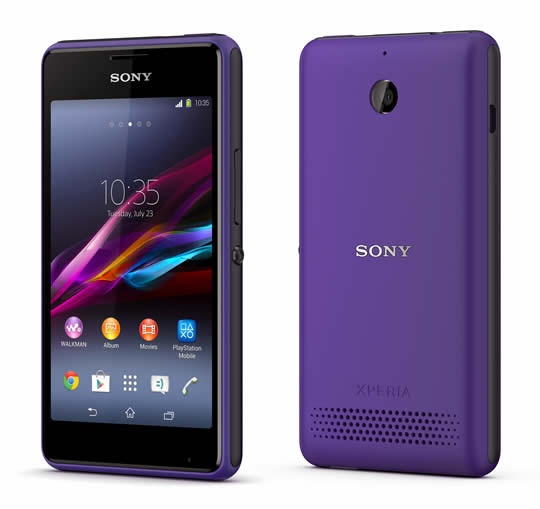 The Sony Xperia E1 packs a whole lotta sound with its 100Db speaker.
Sony has launched the Xperia E1 which is a mid-range Android (4,3) smartphone, which the company say has seriously premium credentials combined with a low price. It comes in both single and dual SIM variants.
The Xperia E1 comes with a 4" WVGA (800 x 480) display and a PPI of 223, Qualcomm's MSM8210 1.2 GHz Dual Core processor, 512 MB RAM and 4GB of on-board memory, a 1700 mAh battery and comes in white, black and purple. The downside is that there is no 4G connectivity.
The E1 is not about high end features and specification though, its geared towards offering great music playback via its 100Db speaker which Sony say offers "a louder, cleaner sound that can hold its own in any environment.".
Sony's ClearAudio+ mode is also included to enhance the listening experience and xLOUD makes sure everything is loud and crystal clear. And you get a dedicated Walkman button for easy and smooth track navigation and support for shake to shuffle controls plus a 30 day trial of the Entertainment Network music streaming service.
Sony have confirmed that the price of the Xperia E1 will cost under 175 Euros (£145), so for anyone wanting an Xperia blaster then this could be the one. The company did not confirm the availability date, but 3G.co.uk would expect this to be on sale in weeks rather than months. As Sony quoted a price in Euros we anticipate the Xperia E1 will be coming to UK but this has not been confirmed so far.
Did you know that Sony also announced the Xperia T2 Ultra phablet