Sony Xperia E1 vs Sony Xperia M
10 Feb 2014 by Kevin Thomas
Since its split with Ericsson, Sony has really come into its own, releasing some of the best handsets on the market such as the Sony Xperia Z1, but while its flagship phones might be its most exciting it's also making moves in the mid-range with the likes of the Sony Xperia E1 and the Sony Xperia M. So what are the differences between these two handsets and which is the best? Read on to find out.
Sony Xperia E1 vs Sony Xperia M – Build quality
The Sony Xperia E1 isn't the best looking phone around. For a start it's plastic, as you'd expect for a handset in its price range, but it does have some design flourishes, like its smoothly curved edges and contrasting colours. For example if you get the handset in white it will have black detailing along the sides. At 118 x 62.4 x 12mm it's about as long and wide as you'd expect but surprisingly thick, making it look and feel a little chunky. It's not all that light either at 120g.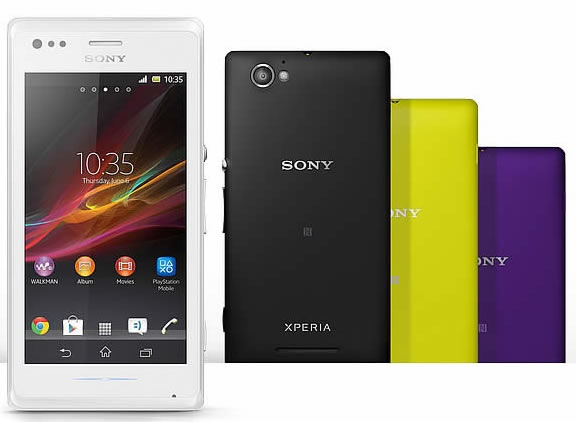 The Sony Xperia M looks substantially higher quality than the E1. Like the E1 it's mostly plastic, but it has an aluminium power button which really stands out in a good way. It also has much harsher lines than the E1 and a notification strip below the screen pulses out an attractive beam of light whenever you get an alert. At 124 x 62 x 9.3mm it's slightly longer but a lot slimmer than the Xperia E1 and it's slightly lighter too at 115g. Overall it's definitely the better looking of the two phones.
Sony Xperia E1 vs Sony Xperia M - Display
The Sony Xperia E1 has a 4 inch 480 x 800 display with a pixel density of 233 pixels per inch. It's not the best screen around, far from it in fact, but it's just about sharp enough to not be off-putting.
The Sony Xperia M also has a 4 inch screen, but it's slightly higher resolution at 480 x 854, leading to a pixel density of 245 pixels per inch. It's a small difference but a noticeable one, leading to crisper images and sharper text.
Sony Xperia E1 vs Sony Xperia M - Power
The Sony Xperia E1 has a 1.2 GHz dual-core Snapdragon 200 processor, which isn't too bad, but it's stuck with just 512MB of RAM, which really lets it down. Performance is far from slick and some apps and games won't even run on it.
The Sony Xperia M has a slightly slower 1 GHz dual-core Snapdragon S4 Plus processor, but it has a much more reasonable 1GB of RAM and its overall performance is better as a result. It still occasionally struggles, but it's a much more capable device than the E1.
Sony Xperia E1 vs Sony Xperia M - Camera
The Sony Xperia E1 (above) has a meagre 3.15 megapixel main camera and no front facing camera, while video recording is limited to WVGA at 30fps. In other words if photo taking is a priority this isn't the phone for you, though it does at least have a few shooting modes such as panorama and HDR.
The Sony Xperia M has a 5 megapixel main camera along with a 0.3 megapixel front facing camera and it can shoot 720p video at 30fps. It's obviously capable of taking much sharper, more detailed photos than the E1 and it has a similar selection of shooting modes.
Sony Xperia E1 vs Sony Xperia M – Battery life, memory and connectivity
The Sony Xperia E1 has a 1750 mAh battery which Sony claims can manage up to 551 hours of standby time, 9 hours and 12 minutes of talk time, 81 hours and 30 minutes of music playback or 9 hours and 36 minutes of video, all of which amounts to slightly above average battery life and in real terms it should be able to keep going for just over a day with moderate use.
The Sony Xperia M has an identically sized 1750 mAh battery, but there are some differences in its performance. Sony lists it as capable of up to 552 hours on standby, 10 hours and 18 minutes of talk time, 39 hours and 24 minutes of music or 9 hours and 42 minutes of music. In other words its battery life is pretty similar overall, but while it can manage a slightly longer talk time it will conk out a lot faster when listening to music.
Both the Xperia E1 and the Xperia M have just 4GB of built in storage though that can be enhanced with a microSD card.
For connectivity options both phones support 3G, Wi-Fi and Bluetooth 4.0, while the Xperia M also supports NFC.
Sony Xperia E1 vs Sony Xperia M - Conclusion
There's a fairly big gulf between the Sony Xperia E1 and the Sony Xperia M, with the Xperia M leading in most areas. It has a better build quality, a slightly better screen, superior performance, a better camera and NFC support, though its storage capacity is the same and its battery performance is similar for the most part.
So the Xperia M is clearly the better phone, that is, unless you're a music lover, because the Sony Xperia E1 has around double the battery life when listening to music and it has a far larger 100 decibel speaker. It even has a dedicated Walkman button, which launches the music app even if the phone is in sleep mode. It's a phone for music fans in other words and if music is your life then it's a better prospect than the Xperia M.
But as an all-round smartphone the Sony Xperia M is far better and as the two handsets carry a similar price tag of around £150 for the Xperia M and an expected price of around £145 for the Xperia E1 it's very hard to recommend the E1 over the M unless you're really serious about music.
Have you checked out our Best Cheap 4G Phones article ?