Sony Xperia Z2 Tablet uncovered ahead of MWC 2014
18 Feb 2014 by Simon Thomas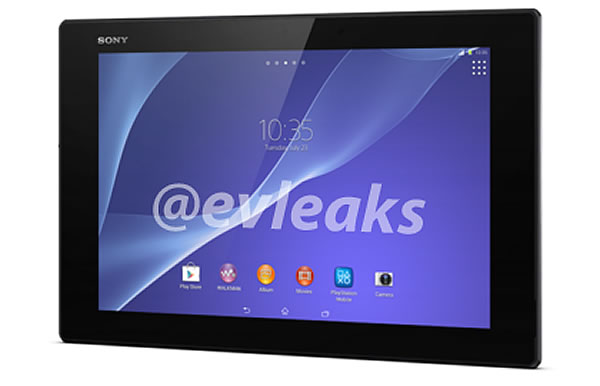 Sony look set to have a very busy MWC 2014 unveiling a new flagship smartphone and tablet. We've already heard a great deal about the 5.2-inch Sony Xperia Z2, but now we've got news on the Sony Xperia Z2 Tablet.
The Sony Xperia Z2 Tablet is the successor to the hugely successful and highly rated Xperia Tablet Z. From the leaked picture of the new tablet (posted above) it's very difficult to notice any difference from its predecessor because it adopts an almost identical design.
However, fear not because on the inside the Xperia Z2 Tablet has been significantly improved. The tablet comes with a 10.1-inch Triluminos display running at a 1920*1080 pixel resolution and is powered by a Snapdragon 800 processor backed up by a whopping 3GB of RAM.
Sony have packed in an 8 mega-pixel camera, 2 mega-pixel front-facing snapper and 16GB of on-board storage (with microSD support). While, the new tablet comes pre-loaded with Android KitKat and it should have solid battery life thanks to the inclusion of a 6000mAH battery.

One of the best things about the Xperia Tablet Z was its thin design and waterproofing, so you'll be pleased to hear both have been retained with the Xperia Z2 Tablet which is just 6.4mm thick and can be submerged in water without any worries.
Sony will unveil the Xperia Z2 Tablet at Mobile World Congress which begins on February 24th. It'll be unveiled alongside their new flagship smartphone, the Sony Xperia Z2. You can findout more about the Sony Xperia Z2 smartphone here.
You can keep up to date with all of the latest news from the event in our MWC 2014 section here.
Or you can keep up to date with all our latest mobile news by following us on on Facebook, Google+ or Twitter.