Sony Xperia Z2 has a larger display, faster processor, more RAM and 4K video recording
24 Feb 2014 by Simon Thomas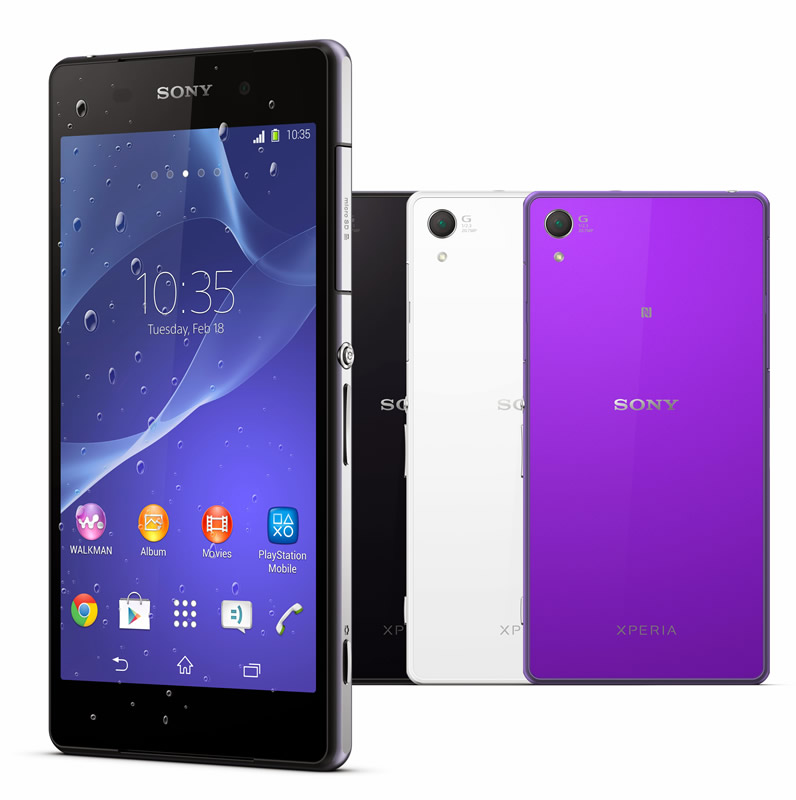 Sony's flagship Xperia Z2 is improved in a number of key areas

Mobile World Congress 2014 has officially begun and Sony have already unveiled their latest flagship creation, the Sony Xperia Z2.
The successor to the fantastic Xperia Z1 adopts the same waterproof design, but is now thinner (8.2mm) and lighter than before. That's been achieved even though the Japanese company have included a larger 5.2-inch touch-screen display (1080p) that incorporates the very latest display technology.
The Xperia Z2's 5.2-inch TRILUMINOS display utilises the latest Mobile Bravia engine and is the first to use Sony's "Live Colour LED", which produces a brighter and more uniform light - resulting in richer colours on the screen without the risk of saturation.
The other big news with the Xperia Z2 is that its 20.7 mega-pixel camera can record 4k videos (3840×2160 pixels), 'delivering the world's best camera and camcorder in a waterproof smartphone'. Sony's camera software was already the best in the business and it's been improved again for the release of the Z2.
Performance has been boosted by the inclusion of its 2.3GHz quad-core processor (Snapdragon 801) that is backed up by a whopping 3GB of RAM. As you'd expect it gets a bigger battery (3200mAh) and also comes pre-loaded with Android KitKat (4.4).
Sony have also done all they can do to boost the quality of calls and sound playback by including new "digital noise cancelling technology", which reduces 98 per cent of noise when used with a noise-cancelling headset (such as MDR NC31EM Digital Noise Cancelling Headset). And they've also added a front-facing stereo speaker!
The Sony Xperia Z2 will be available in Black, White and Purple in March. Three, EE and Vodafone have already confirmed they'll stock the smartphone, but you can be pretty confident all of the UK's major operator will be offering Sony's new mobile. The price is still currently unknown.