Even though the HTC One has been out for months, we still really love it, its sleek design and its impressive features. But there was more to come, because HTC then brought us the One Mini, a smaller sibling that still brought plenty to the party, even though it came in a smaller package.
Now, HTC has brought out its bigger brother, the HTC One Max, which is a 5.9in phablet, with some new features, including a pop-open case and finger printer scanner.
HTC One Max compared to the HTC One
Pocket friendly?
We can just about squeeze the One Max into a jeans pocket, but it's not a device you can use with one hand – like all the other phablets. It's also one of the weightiest around, coming in at 212g. Having said that, its classy metallic design does suit a device with a bit of heft. It is a solid device, able to ward off scratches and knocks.
The screen measures 5.9ins (the One's display was 4.7 inches) and is a Full HD model. It's bigger than the screen on the Samsung Galaxy Note 3, but a little smaller than that of the Samsung Galaxy Mega and Sony Xperia Z Ultra. It may not be much of a difference, but it does make the One Max feel more compact than the Xperia Z Ultra, which has aspirations to be a tablet.
A little switch on the rear of the device is what you flick to open up the back to find the microSD memory card slot, which allows you to expand on the 32GB or 16GB of onboard storage. The SIM card is also here, so no more fiddling about with a tiny hole and a paperclip. The battery though, is not removable, unfortunately. The power button sits on the side of the handset. In the pipeline is a dual-SIM version, which is useful if you want to use one for home and one for work, rather than having to carry round two different phones.
We found the back plate rather tricky to replace, but as the model we tested was one of the first to come off the production line, we're hopeful that the issue will be sorted by the time the final model comes out.
Prints charming
One of the new features on the One Max is the fingerprint scanner, which is located on the back of the handset, under the snapper's lens. The idea is that it is a safe way to lock the device, instead of using patterns and PINS. All you need to do is register your three favourite fingers and then swipe them to open the lock screen to get to the desktop. Well, that's the idea - it doesn't always prove reliable and it often took two or three tries before we got into the phone. And if your finger is wet, you'll have no hope. If you are unsuccessful after five or so tries, you'll be asked for a password instead.
It doesn't help that the scanner is on the back of the phone – Apple has put theirs on the front of its iPhone 5s, which is far more sensible. Not only did we sometimes swipe the snapper lens rather than the scanner, but if your handset is on a desk, you need to pick it up to get to the scanner. Annoying if you're at the pub and want to quickly grab your phone to check an alert or email. After a few days we gave up and opted for the common-or-garden PIN protection.
Top snapper
The snapper boasts the same Ultrapixel technology as that on the Max – and it remains one of the best cameras on a phone in 2013. Pretty much all of our shots – whether in gloomy pubs or outside in daylight - proved sharp and well lit. The lens is able to suck in plenty of light, which also means you need to have a steady hand, although you can use anti-shake mode if you suffer from lots of blur.
Zoom in though, and you'll see there is less detail than in shots taken on other top Android devices, such as the Sony Xperia Z. Mind you, it's not really an issue unless you plan on blowing up images to more than A3 size.
Like the other One handsets, the HTC One Max lets the user grab three-second Zoe clips, along with a quick series of snaps or full-length HD films. Videos were impressive on a large screen; focus was sharp and it dealt admirably with any changes in lighting. You can also take still photos while you're shooting video, should you wish to.
The front-facing lens has a wide-angle so you can take selfies of groups if you want five or six friends to squeeze in together, while a three-second timer lets you get ready. The camera app also tracks faces so that they are bright and sharp in the final shot.
Long life
Under the hood sits a 1.7 GHz quad-core Snapdragon 600 chip, which also powers the smaller One devices – it copes admirably with playing games and HD media. But the Snapdragon 800 has already appeared on devices such as the Sony Xperia Z. It doesn't make much difference at the moment, but it does mean the One Max will be dated quickly.
That massive display has to drain the battery, right? Well, the One Max has one of the biggest batteries we've encountered on a smartphone – and we were able to run the phone for a whole weekend before we had to charge it – it does help that in hibernation mode the phone used hardly any power at all.
Even under heavy use the One Max manages to outlast most other handsets – even video streaming doesn't drain the juice until more than seven hours have passed.
Shiny new Sense
HTC has included its newest version of Sense (5.5) over Android 4.3 – and it features a number of neat new touches. The HTC social media and news feed aggregate called BlinkFeed has been given a makeover and is more user friendly. Swipe right and you'll see a menu offering Google+, RSS support and your accounts – plus there's a nice search facility that has been introduced. If you commute on the Tube or have a restrictive data plan, the good news is that you can download from feeds before you head out and then read them offline.
It does feel that BlinkFeed needs some more work to fulfil its potential, although RSS support does means there's a cool news widgets that brings you the big headlines at one stroke. It's not as cool as the likes of FlipBoard, but we did find ourselves flicking through it throughout our journey to work.
Another feature of Sense 5.5 is that it improves the Zoe mode on the snapper, enabling you to more easily share clips and photos. Plus it offers better control over your highlights reel – even going so far as to let you edit the background music.

Big screen star
The standout reason for choosing the One Max over a smaller device is that Full HD 1080p display, which makes high-res video shine, and offers crisp, vibrant, blur-free moves. Contrast and viewing angles are great, and the bright screen is easily able to combat any issues with glare. It offers a nice way to watch films when out and about, but you do have to put up with the unwieldy body.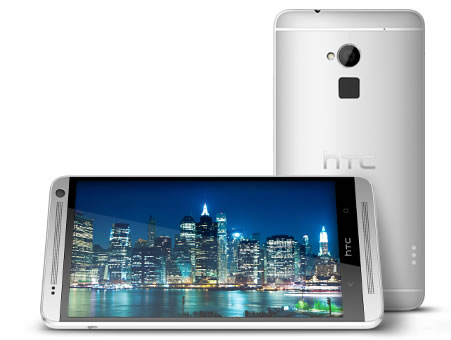 For sound, you get the impressive BoomSound speakers – some of the best you'll find on any phone. Powerful enough to give you full sound in a bedroom, they lack any of the tininess usually associated with phone speakers.
Our conclusion
There are plenty of features we love about the One Max, but most are available on the One Mini or One. The large screen is great for watching video – but you have to put up with that bulky handset. The inclusion of a memory card slot is good news for anyone who wants to take their movie or music collection with them, but that fingerprint scanner is disappointing. All in all, we'd have to suggest that you choose one of the smaller One models over the One Max.