LG doesn't release as many phones as some of its competitors, so when it does release a new one it wants to make it count. The LG G2 is exactly the phone that LG needed. It has the specs to compete with anything else out there and a feature set that dwarfs most of the competition. It's an amazing phone, but can it topple the likes of the Samsung Galaxy S4 and the HTC One?

Unique design

From the front the LG G2 doesn't look much different to any other smartphone. It's a rectangle with a big screen and a disappointingly plastic body. But flip it over and it's a slightly different story. Yes it's still plastic heavy, but in a unique move the buttons are all on the back, rather than the front or sides.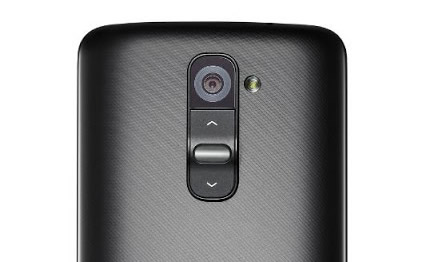 This was done to make it easier and more comfortable to operate the phone one handed, as the buttons are exactly where your fingers are likely to fall when holding the phone. LG believes this will make you less likely to drop the handset when pressing things, as you won't have to adjust your grip. It's also just an easy, intuitive way of operating the LG G2.

Stunning specs

The LG G2 has a 2.26 GHz quad-core processor and 2GB of RAM. That's enough to out power both the Galaxy S4 and the HTC One. It really shows when using the phone too as absolutely nothing can slow it down. We'd be surprised if this didn't still feel slick and powerful even a couple of years down the line, which in the fast moving world of smartphones would make it about as future proofed as a handset can get.

It comes with a choice of 16 or 32GB of built in storage, the latter of which should be plenty enough for most people. That's a good thing too as there's no micro SD card slot, which is one of the LG G2's few failings.

The built in 3000 mAh battery is absolutely not a failing though as it provides some of the best battery life we've seen on a smartphone, easily lasting a couple of days or more with moderate use.

Screen sensation

The LG G2 has a 5.2 inch True HD IPS+ LCD 1080 x 1920 display with a pixel density of 424 pixels per inch. LG has stated that it believes 5.2 inches to be the biggest size that an average adult can comfortably operate one handed and we're inclined to agree.
The screen is also high resolution and superb quality, with great contrast and natural colours. It's certainly good enough to give the Super AMOLED display of the Samsung Galaxy S4 a run for its money.

Feature filled

Beyond its impressive specs the LG G2 also has a number of innovative features. Two quick taps on the screen will turn it on or off, so you never need to reach for the power button, while holding the handset up to your ear will answer a call, so again you can operate it button free.

When you do need to use buttons they're optimally positioned, being on the back of the phone where your index finger is naturally likely to fall.

Camera

LG has put a lot of work into the LG G2's camera as not only is it 13 megapixels but it also has optical image stabilisation. Very few smartphones feature optical image stabilisation, but it allows the LG G2 to keep the shutter open longer and let more light in for impressive low light shots. It also reduces camera shake so whether it's night or day your pictures are less likely to be ruined by a shaky hand.

The LG G2 is great for video too, shooting in 1080p at 60fps. Plus there's a secondary 2.1 megapixel camera on the front.

Our conclusion

The LG G2 is a remarkable phone with very few missteps. Sure it would be nice if it had a micro SD card slot and a more premium body, but in all other ways it's almost perfect, with everything from a great screen and specs, to a top flight camera, strong battery life and loads of extra features.

It's a phone that just keeps on giving and for that reason it's the best phone on the planet right now.
Specifications
Dimensions: 138.5 x 70.9 x 8.9mm
Weight: 143 g
Screen size: 5.2 inches
Screen Resolution: 1080x1920 pixels
Pixels Per Inch (PPI): 424
Processor: 2.26 GHz Quad Core
RAM: 2GB
Battery capacity: 3000 mAh
Onboard Memory: 16GB / 32GB
Camera: 13 megapixel / 2.1 megapixel (front-facing)
Operating system: Android 4.2.2
Ultrafast / 3G / 4G LTE: Yes / Yes / Yes
Bluetooth / NFC: Yes / Yes
Colours: Black, White
Launch Date: October 1st
Price: £470 (TBC)