Nokia is obviously targeting the youth market with its Lumia 620 – just look at those colourful cases, the lower price tag and the 100-decibel speaker. But don't just write it off as a kids' handset – because the 620 is actually a very slick device. Not only that but it's one of the most affordable Windows Phone 8 handsets around – and its performance is possibly the best of any of the Lumia phones.
Get a new look
There are a number of cases available in different colours – and you can change the look of the operating system to match your chosen case! The covers snap on and off easily (although you have to push the snapper lens to get them off, which is a bit odd).
The display measures 3.8 inches and is sharp and bright, offering good depth despite the size. That's mostly thanks to the ClearBlack display, which gives a deep black that makes everything else really stand out. Video and images all look amazing, and with the 480x800 pixel resolution, you get great sharpness. Plus the screen is really responsive.
Good to hold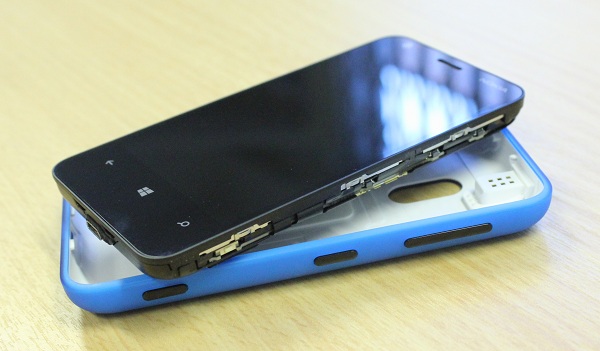 Apparently the Lumia's design is based on a cup – well it might not hold a good cup of coffee but it is comfy to hold for a while, thanks to its curvy chassis. It's just the right weight (127g) for its size (115x61x11mm) and is well balanced. It feels like it would stand up to the sort of knocks a phone can expect to get.
Because it measures only 3.8 inches, the Lumia 620 is good to use one-handed – nice if you're put off by the likes of the beastly Galaxy S III. The display does feel a little small when you're using the keyboard, though. You can't customise the native keyboard, and if you're a quick typist you might find yourself making a few mistakes. Nor can you download SwiftKey or Swype to help you out… the only one on offer is the rather disappointing Slydr. Even then it doesn't let you replace the keyboard, instead to have to type your copy then copy and paste into the email or text window. Bizarre.
Losing power
The battery life is also a disappointment. We only managed three and a half hours when streaming video on full brightness over a Wi-Fi connection. Okay, it's better than the HTC 8S, which is its budget WP78 phone, but it's still below-par. In normal use you should get a working day out of a fully charged battery, but not if you're working it hard. Mind you, it charges up in only 90 minutes. Having said that, you may need to use a different plug from the one provided. Because its USB cable is inserted into the left side, we found it was too wide for some extension cable setups and some wall sockets.
Onboard memory comes in at 8GB, but actually only half of it is usable – the rest is taken up by the OS and ready-loaded apps. But luckily this can be extended up to 64GB by microSD cards.
Where to next?
There are some unusual non-intuitive quirks too – don't know which apps to fire up? Then hold the back button down and all your open apps will be shown in a scrollable window, so you can choose which one to go to. But you can't close them from the same place, which seems strange.
Nor can you get to Wi-Fi or any other settings by pulling icons down from the top of the display. Instead you have to go into the settings menu, which is not terribly user friendly.
And if you're downloading apps, be prepared to get sent back to the homepage once you've done downloading. Click install and you're sent back, so if you want to get more than one app, you have to go back and do the journey to the store all over again.
As we know with WP8 handsets, the sparcity of available apps is an issue – as is the fact that it gives apps access to your location data as well. But we do like the fact that you can delete programs from the app menu.
Power is provided by a dual-core 1GHz chip teamed with 512MB RAM. The phone runs really smoothly and offers the best experience of WP8 that we've seen so far. The layout is user friendly and has some neat animations that fit well with this speedy, bright handset.
Snap it up
Fire up the snapper using the dedicated key on the side of the handset. Half press to focus and full press to fire the shutter. It's a five-magapixel snapper that does a reasonable job – but it's the neat features that set it apart. Try Lomogram for neat filters, Cinemagraph (half gif, half picture) and Smartshoot, which lets you combine images to produce the perfect shot. There are lots of fun features - not surprising considering the young market Nokia has aimed the 620 at.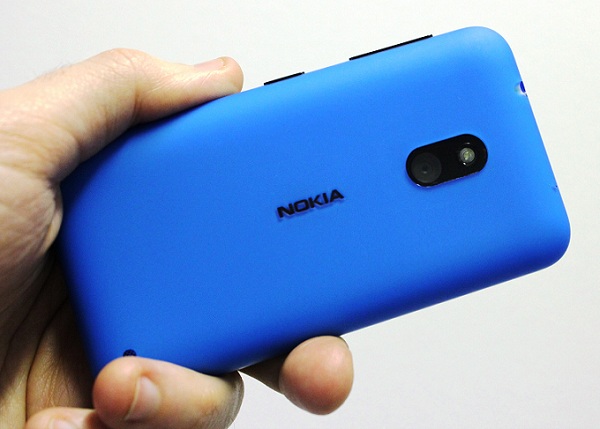 The music offering is also impressive. Nokia Music offers a good alternative to the likes of Spotify – offering a great range of mixes, giving you a playlist based around your chosen genre. The 'create a mix' option is fun – choose three artists and Nokia Music uses them as inspiration for a playlist it thinks you will like. We found some cool new music, and were also reintroduced to some old favourites.
The external speaker offers an amazing 100 decibels – that's louder than both the Lumia 920 and 820. You get even better sound using headphones, especially with Dolby switched on. The headphones also fit really securely into the headphone jack.
Our conclusion
With its impressive speaker, decent build quality and fun colourful covers, it's obvious the Lumia 620 is aimed at a young market. And while it is a good price, offers a smooth user experience and has loads of features, the lack of apps available will be a deal breaker. Which is a pity, as it's a really decent handset, especially at this price.