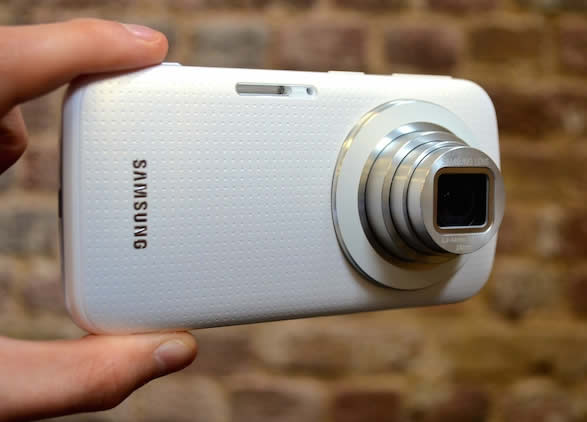 While games consoles, sat navs and MP3 players have all seen their existence threatened by smarter and smarter smartphones, the point-and-shoot snapper has always survived, thanks to the fact that protruding lenses don't sit well with streamlined handsets.
So while phone cameras have started to offer more and more megapixels, all kinds of clever features, optical image stabilisation and more - they've still fallen short when it comes to zooming. But now Samsung is looking to change that with the Galaxy K Zoom.
First impressions
The Galaxy K Zoom comes on the market to replace the Galaxy S4 Zoom, which is 12 months old. From the front it has the look of a Galaxy S5, but turn it over and you'll see there's a 10x optical zoom lens, which means the body stretches out to a bulky 22m – that's 14mm wider than the body of the Galaxy S5. It's pretty hefty too – weighing in at 200g – 55g heavier than the S5.
Looks-wise, the back of the handset has the same dimpled finish as the Galaxy S5, but it feels harder and therefore less of a quality product. The back cover can be taken off to swap out the battery if you wish.
Of course including this bulky lens has consequences for the way the handset feels – it certainly is something of a handful. Hold the phone when typing and you'll find the lens gets in the way so it is harder to get a comfortable grip on the handset. Apart from that it's not an issue – sure the device is heavy and large but you get used to it – and keen photographers are bound to be happy to trade a bit of portability for that lens.
Snap-happy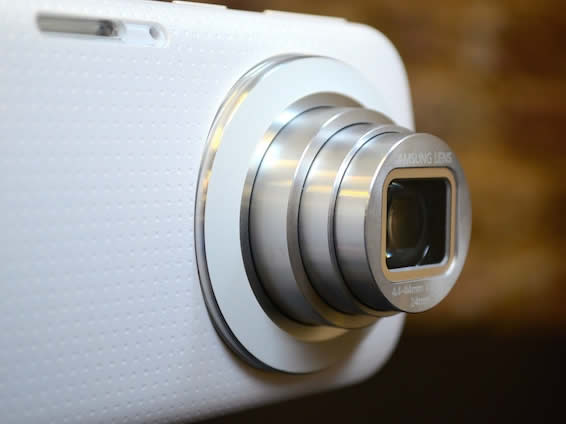 So let's get on to that camera, with its 20.7 megapixels, 10x zoom lens and optical image stabilisation included.
Press the shutter button to fire up the snapper – it opens quickly – and out pops the lens. The motor is almost silent – and this whole action instantly tells you that this device is more camera than it is phone.
Default mode is auto mode – simply tap on the shutter icon or hit the shutter button to take a snap – zoom by pinching on screen or pressing down the volume buttons. Another tap turns the flash off or on. It's very easy.
But there is so much more to this camera – you have a massive 27 shooting modes to opt for – although you'll only see half of these in default mode – it's like Samsung didn't want to scare off users on their first outing.
However, venture further than auto mode and you'll find all kinds of goodies including Panorama, Selfie Alarm, Landscape, Macros, Waterfall, Sunset, Light Trace, Beauty Face, HDR, Night, Kids Shot, Manual, Dawn, Food, Indoors, Silhouette, and Fireworks. There's barely a kind of photo that doesn't have a shooting mode.
But while this seems fantastic we doubt that most users will get beyond just a few of them – if you're photographing a waterfall for instance, will you remember to switch the mode, rather than just leaving it in Auto?
The camera responds speedily and takes snaps really quickly, but having to use the touchscreen makes it less of a camera experience than a real point-and- shoot snapper where you get buttons and dials rather than taps and swipes.
However, even in Auto mode the photos are impressive and of course that 10x zoom lens beats anything you'll see on a smartphone. For everyday photos you need nothing more and you'll be pleased with the results. Even post-processing noise (which is very evident on the Sony Xperia Z2 and LG G3) is kept to a minimum.
The sensor is a 20.7 megapixel sensor and it allows lots of light to get in – all those pixels mean you are able to crop snaps quite a bit before you lose quality.
Ultimately, the snapper is the standout reason for buying this phone.
Screen superstar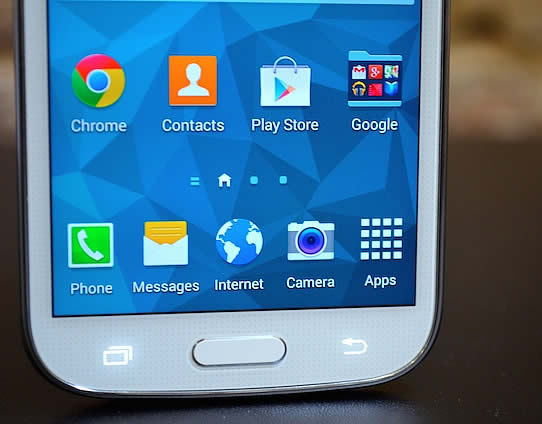 While we've talked a lot about the camera, this is of course a phone too – and the 4.8in screen offers a 1280x7290 resolution, bold colours and a bright experience. Most Samsung screens are a bit too bold and bright and this is no exception, but the resolution is behind that of the Galaxy S5. It still looks good but it doesn't quite compete with that of the flagship Samsung phone.
Nevertheless, the screen remains bright and it's perfect for looking at your photos. Viewing angles please, although the colours do fade a tad if you are looking off-centre, but it is bright enough to view outside in sunshine. This is very important because there is no viewfinder so you need to look at the screen to frame your photos.
Performance and software
Running on the K Zoom is Android 4.4 KitKat, overlaid with the Touchwiz UI from Samsung. It makes Android very colourful – and not what everyone will like. Having said that, Samsung had made a decent stab at making things flatter and more simple than they were last year – the software has become more intuitive and user friendly.
The Galaxy S5 has more apps than the K Zoom – one notable absence is S Health, the fitness tracking app. This is not necessarily a bad thing as it allows the focus to remain on the camera and its 10x zoom. As far as we're concerned, the fewer features Samsung includes the better – it needs to learn that sometimes less is more.
Under the hood sits a hexa-core processor comprising a 1.7Ghz core and a 1.3GHz quad-core chip. It gives the device quad-core power should it need it, but the ability to run on dual-core in order to save battery life when using the less-intensive apps. It is combined with 2GB of RAM.
The K-Zoom isn't as powerful as the Galaxy S5 but it's not far behind it – we found games and apps opened quickly and multitasking ran smoothly.
It's a shame there's only 8GB of onboard storage – which means once you've taken care of some apps and the operating system it actually only leaves 4GB for saving photos, videos and music. There's also a microSD slot, which allows you to expand storage by 64GB – but for £400 we would expect to see more storage included.
Battery life is comparable to other phones – as long as you're not using the snapper. You should be fine for a whole day, but into the second day you will need to charge before you're on your way home from work. However, use the phone as a camera while on holiday and battery life dwindles quickly.
Our conclusion
Most smartphones involve a degree of comprise – none of them will tick all the boxes for you. But size and weight are two of the most obvious compromises you have to make. The Galaxy K Zoom is weighty and chunky in comparison with other phones on the market, but it does have a proper zoom lens. If you want an excellent snapper with great zooming capabilities and don't mind having a bigger handset and smaller screen, then this is the phone for you. Remember that you also get lower performance for your £400.
But you won't need to buy a point-and-shoot camera, as the K Zoom does all those jobs for you. However, if zooming isn't a high priority for you, you can opt for a more well-rounded device that doesn't focus so much on just one feature.