The Samsung Galaxy Note II won't be everyone's cup of tea, simply because of its size. The first incarnation of the Note was incredibly well received, so of course Samsung has decided to release an even bigger device. Not only does it have a bigger display, it also has processor that's twice as fast, packs twice as much RAM under the hood and features all kinds of software tweaks, which enable the user to do things like watch a video while you're tapping out a memo. It also lets you do terribly creative things with illustrations using the stylus, if you're that way inclined.
As we've already mentioned though, the one thing it can't do is fit in a pocket. Most of us our virtually surgically attached to our mobile phones, so is the fact that you can't pop the Note II in your jeans pocket going to be a problem – or can we expect other manufacturers to follow suit?
Knight in shiny white armour
Looks-wise, the Note II is reminiscent of the S II, with its shiny white body – the Note II, though is chunkier, making the handset feel far more sturdy. Even though it's larger, it features gentle curves, which make the fact that it is so massive less obvious. However, you might not be able to get over the fact that it looks like an engorged S III – and that it is impossible to slip into a trouser pocket.
But maybe the 5.5in HD Super AMOLED display might just change your mind, as it wows you with its 1280x920 pixel resolution. Samsung has managed to squeeze the screen into the same size chassis as the Note II, by making the bezel minimal (the device has the same 80.5 x 151.1 x 9.4 mm dimensions as its predecessor).
What you can't see is the speediest chip available in a mobile at the moment. Under the hood sits a 1.6GHz quad-core Exynos processor, a faster chip than those in both the S III and the Note 10.1. It also has a massive 2GB of RAM, while you can choose from models packing 16, 32 or 64GB of onboard memory – these can all be expanded by up to 64GB using the microSD slot.
Button-wise there's a hard home key, along with a pair of touch-sensitive areas for More and Back. The front-facing 1.9-megapixel snapper is positioned between two small lenses that are used for the eye tracking technology. This powers Smart Stay, a feature that ensures the screen stays bright while you are looking at it. On the back of the device sits an eight-megapixel snapper with LED flash.
Bean there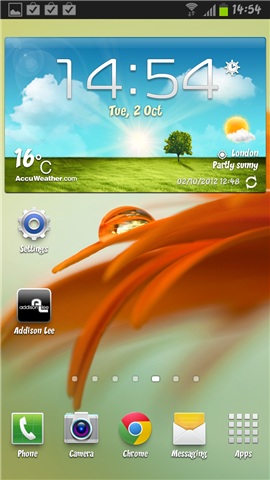 The Note II runs on Android Jelly Bean, which remains slick and sleek and a joy to use. Samsung's less-than-popular TouchWiz interface has been pared back to the minimum (happily the Social Hub has disappeared). You're just left with the widgets that did work – such as calendar and weather as well as the Music and Video hubs that let you buy more content if you want it.
The screens can be customised with your choice of widgets shortcut icons and folders – you can see what's inside as they appear as icons sitting on top of one another. There are lots of customisations to choose from – you can even change the fonts used on the handset. You'll find around a dozen already on board but it is possible to download plenty more.
The top bar is where notifications appear – simply drag it down to see the whole of your messages or the initial paragraph of each email.
It is in its software build where Samsung has truly excelled though. Samsung has created a machine that is capable of multitasking in a way that really makes the Note II feel like a small computer. Not only can you have more than a dozen apps open concurrently, you can even open apps on top of other apps.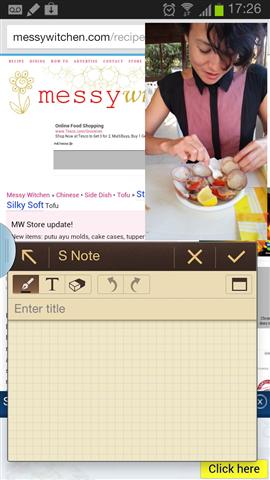 We loved what happens with video – hit the Pop Up Play button that shows in the corner of your video and it will whizz into a small window that can be moved around. Then you can fire up another app and do something else – write a memo for example – while still watching your video. Pull out the handset's S-Pen and you'll see that S-Memo fires up automatically. So that's three windows all open and working well at the same time – extraordinary.
One of the big features on the Note II is the stylus – and there's plenty you can do with it. The S-Memo app offers the opportunity to draw illustrations, write memos and edit a few templates for things such as magazines, recipes and itineraries. Handwriting recognition features include Formula Match, which can solve your chosen maths equation, should you need such a thing, and Shape Match – handy if you need to sketch a hexagon for a mind map, for example.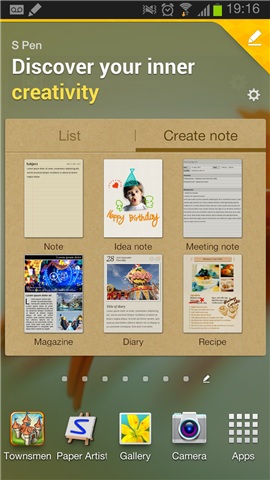 As seen on its predecessor, the Note II features Wacom technology, and Samsung has improved on it so that the device can register the weight of your S-Pen strokes to allow for light and heavy strokes when you're creating your masterpieces. The S-Pen has more to offer too – try pushing the button near its tip and you'll find you have a 'select' feature, which lets you preview videos and emails. Hover the pen and a light blue circle appears – it becomes a solid circle if it finds content with which you are able to interact. If you're checking email, it allows you to preview the introductory paragraph of your message without actually opening it. Handy in an area where internet coverage is not terribly reliable as you can quickly get an idea of what messages you have received.
If you're playing video, just hover over the play tracker and you'll be able to see screens further on in the video – this is a feature that only works on video held on your device, though, not if you're streaming them.
Good news for the forgetful among us is that if you wander off with the device and leave the stylus behind, an alarm sounds. It reacts to both distance and speed – so if you amble across the office to the water cooler it won't go off, but it will alert you if you walk out the door on your way home at the end of the day.
To set all these features up, you'll have to delve into Settings, as they are not included in the setup menu.
Big Brother's watching
A new, pretty cool addition to the operating system is Google Now. Choose to opt in to Google Now and Google will check out your location data and search history to populate 'cards' that it thinks you will find interesting – there will be links to weather, places, sports information and so on. We tried it out for a fortnight and we got regular traffic updates for random places that had appeared in web searches, but were of no interest to us The weather update is useful, but Google Now is just not accurate enough yet. We got info on traffic back 'home', which turned out to be Bodean's BBQ in London – it's going to have to be far more accurate to get us excited about it.
Picture perfect?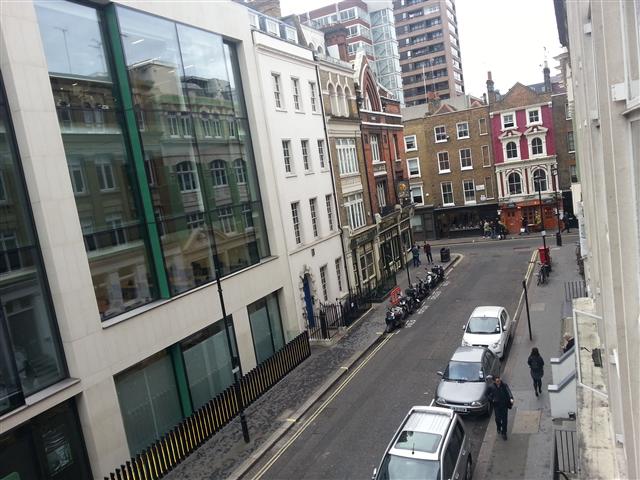 The camera on the Note II is the same eight-megapixel model found on the S II. It features LED flash, autofocus and instant shutter. We got really sharp, bright pictures using auto mode, and found it was great for action snaps thanks to the speedy shutter, which suffers from no lag. Detail is fantastic and colours prove vibrant. The flash is guilty of overexposing the subject, especially people's faces, so in low light choose to use Night mode, which offers a better result.
There are a whole heap of modes to choose from, plus clever software modes such as Buddy Photo Share, This recognises your friends and allows you to share snaps with them automatically. Mind you, as the facial recognition facility is a bit hit and miss, this isn't as useful as you might first think. The neat new gallery design lets you add the date, a friend's name and your location to the image.
HD video capture impresses, with decent sound, clear images and lifelike colour. You can take still images while grabbing video, and panning is responsive and smooth. Play back video on a big screen and it looks just as sharp.
We got a good 24 hours out of a full battery, even when running HDSPA, Wi-Fi, using the stills and video camera and playing the odd game or two.
Our conclusion
There's no denying that the Note II has plenty of power, and beats even the flagship SIII when it comes to power and features. The only thing that is really wrong with it is its size – and this could be a deal-breaker for many. That, and its massive £529-plus price tag. However, with a massive display, a powerful quad-core 1.6GHz processor and 2GB RAM, there's no denying it is overflowing with specs. It offers amazing multitasking abilities, such as being able to watch video in a small window, open up another app and then write a memo. It is also possible to reformat screens such as the lock or dialler screens so that they can be used with one hand. Plus that Wacom touch-screen and stylus add even more possibilities for professional design use. The Galaxy Note II is carving a niche place for itself in the market and where it has gone, we expect to see other smartphones follow.