Samsung has recently expanded its tablet line with a new Pro range, which is aimed more at business users than most other tablets on the market. With a lot of power, a bigger screen size and S Pen support you can see how the Note Pro 12.2 could be better suited for productivity than most of its brethren, but does it really go far enough to suit business users? And will anyone else want it? Read on to find out.
Design
The Galaxy Note Pro 12.2 takes design cues from other devices in the Note line, with the same faux-leather back as is found on say the Galaxy Note 3. It's not the best looking tablet around, it certainly can't compete with the premium design of the iPad Air for example, but it doesn't look bad either and that leathery finish makes it stand out from the ranks of plastic slates, even though it's not real leather.



The bigger problem is its size and weight. At 295.5 x 204 x 8mm and 753g it's not small or light, which both makes it less portable (you'll definitely need some sort of bag for it) and harder to use. One handed use is obviously a none-starter, but even with two hands it can feel unwieldy and the weight might get to you after a while.
Display
The slates 12.2 inch 2560 x 1600 Super clear LCD display is obviously enormous, coming it at a full 2 inches bigger than what were previously the biggest tablets on the market. That's a mixed blessing, on the one hand it makes it more immersive for watching videos and handles full screen web pages and drawing tools with ease but on the other it's a little less portable as a result.

The quality of the screen is pretty good. It has a pixel density of 247 pixels per inch, which isn't quite as good as some other top end tablets, such as its stable mate the Galaxy Note 10.1 2014, but it's still a high pixel density by tablet standards and it produces fairly crisp images with vibrant colours.

Unfortunately the screen is somewhat reflective, which can make it awkward to see what you're doing when using it outside or by a window on a sunny day.
Power and Performance
The Samsung Galaxy Note Pro 12.2 has an octa-core Exynos 5 processor with four of the cores clocked at 1.9 GHz and the other four clocked at 1.3 GHz. Or if you opt for the 4G LTE model you get a 2.3 GHz quad-core Snapdragon 800 processor, but either way it's enormously powerful and both versions come with an impressive 3GB of RAM.

The upshot of this is that the Samsung Galaxy Note Pro 12.2 is one of the most powerful tablets around and even with that massive screen to drive it generally feels slick and responsive, which is good because this is a device aimed at productivity and that extra horsepower comes in handy when editing photos or creating digital artworks and presentations for example, especially if you have multiple apps open at once.
Interface
The Samsung Galaxy Note Pro 12.2 runs Android 4.4 KitKat, which is the latest and greatest version of Google's mobile operating system. However it's overlaid with Samsung's TouchWiz and Magazine interfaces. The Magazine UI is a fairly new creation from Samsung and it fills your homescreen with attractive tiles full of news and social network updates, a bit like Flipboard, while the TouchWiz element is closer to a standard Android homescreen, albeit a little ugly and convoluted compared to stock Android.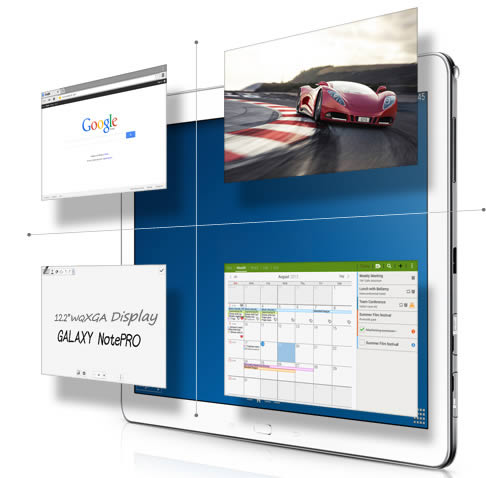 One of the great innovations of the Galaxy Note Pro 12.2 is that you can have up to four apps open on the screen at once and can even pick how much screen real estate to give to each of them. The 12.2 inch display is big enough to cope with this and it takes tablet multitasking to a whole new level.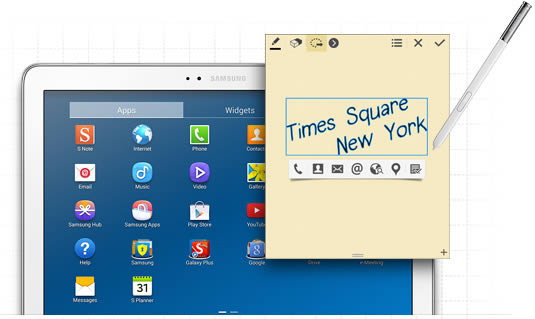 The S Pen is helpful too, particularly if you plan to use the Note Pro 12.2 for art or design work, however for more conventional business uses (e.g. document creation, emailing, spreadsheets etc) we'd recommend a Windows 8 tablet instead, as they use a full desktop operating system and often come with keyboards.
Onboard storage, Connectivity and Cameras
The Note Pro 12.2 has a choice of 32 or 64GB of storage along with a microSD card slot for cards of up to 64GB, so storage is never likely to be an issue.
It supports Wi-Fi, Bluetooth 4.0, 3G, 4G LTE and infrared and it has an 8 megapixel main camera and a 2 megapixel front facing one. The camera is one of the better ones we've come across on tablets as it can take quite sharp, detailed photos and can also shoot 1080p video at 30fps, though at 12.2 inches this is about the most impractical device you could possibly use to take pictures with.
Battery Life
Battery life is something the Note Pro 12.2 isn't short of. Its 9500 mAh battery is capable of up to 12 hours of multimedia use or up to 121 hours of music playback. In real terms it can survive a day or more of heavy use, which is great whatever you plan to use it for.
Verdict
The Samsung Galaxy Note Pro 12.2 is in many ways a very impressive device. It's extremely powerful, excellent for multitasking, has great battery life and with that big screen and S Pen it's a digital artists dream.
However we'd argue that it's a little too large for most other users, while it's not as good for conventional business uses as the likes of the Asus Transformer Book or the Microsoft Surface Pro 2. Then there's that £649 RRP, which really puts it out of reach of more casual users and seems a little steep in general seeing as the extra money all seems to be for just 2 more inches of screen.
If you can stomach the price it's a top flight device, but one which has fairly niche appeal.