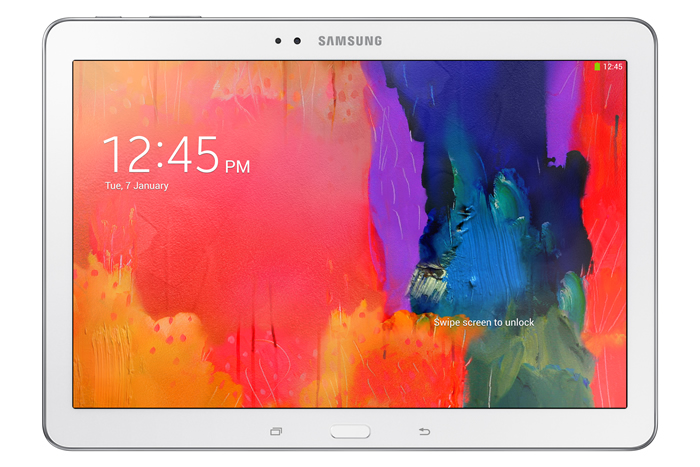 Samsung's never been afraid to flood the market with devices and its tablet range is no exception. With the Note, Note Pro, Tab Pro, Tab and Tab Lite ranges all on the market it can be hard to keep track of what's what and there's a fair amount of overlap between them, but while the company's tablets used to be a bit underwhelming now at least there are some very good ones, even if it's still hard to tell them apart.
The Galaxy Tab Pro 10.1 seems like it might be intended as Samsung's mainstream flagship, lacking the extra screen size, grunt and specialist features of some of its other tablets but with the right specs and price tag to put it toe to toe with the Apple iPad Air.
Design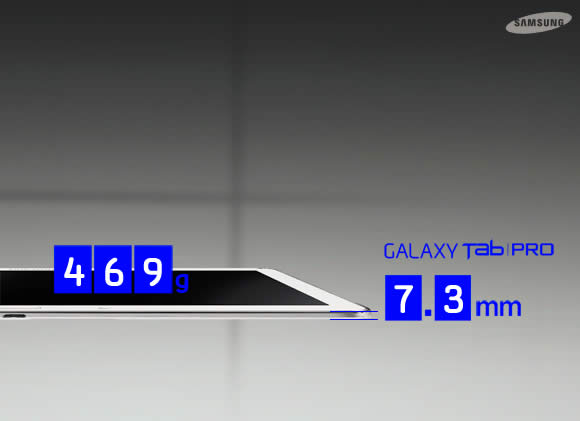 Speaking of the iPad Air, Samsung's done a good job of matching one of its key highlights. Specifically both tablets are extremely light, coming in at an identical 469g.
Not only does that mean that the Galaxy Tab Pro 10.1 is neatly positioned as an alternative to Apple's behemoth but it's a genuinely useful feature too, as after holding it or carrying it around for several hours it makes all the difference. While many other tablets could start to get to you after a while you can almost forget the Tab Pro 10.1 is there.
Unfortunately the rest of the design isn't quite so impressive. At 243.1 x 171.4 x 7.3mm it's not too enormous and it's actually pretty slim, but Samsung has used the same faux-leather back as it does on the Note range and while it's arguably preferable to a plain plastic back it's not a terribly convincing illusion. The sooner Samsung embraces glass and metal the better.
Display
The Samsung Galaxy Tab Pro 10.1 has a 10.1 inch 2560 x 1600 Super clear LCD display with a pixel density of 299 pixels per inch. Not only is it incredibly crisp and clear, with a higher pixel density than even the iPad Air, it also has strong colours, great contrast and good viewing angles.
It also has multiple different screen settings, such as 'Movie' or 'Dynamic', which affect the white balance and colour saturation, so there's a lot of scope for getting the screen exactly the way you want it.
If there's anything bad to be said about the display it's that it's PenTile, which leaves a crosshatch effect, but you have to look really closely to see it, so it's not much of an issue.
Power and Performance
The Samsung Galaxy Note Pro 10.1 isn't actually the most powerful of Samsung's tablets, but it's far from lacking in power either. The standard version has in impressive Exynos 5 octa-core processor, where four cores are clocked at 1.9GHz and the other four are clocked at 1.3 GHz. On the other hand if you opt for the 4G LTE version it comes with a 2.3 GHz quad-core Snapdragon 800 processor.
Both come with 2GB of RAM and both are very powerful, though not quite the most powerful things out there. The Note Pro 12.2 and the Note 10.1 2014 for example both come with 3GB of RAM, while there are already phones coming out with slightly faster processors and tablets are sure to follow soon.
Still, while it's not quite cutting edge it has more than enough power to handle anything Android can throw at it. Whether you're web browsing, watching videos or playing games this thing won't skip a beat.
Interface
Normally you more or less know what you're getting with Android, but that's not quite the case here, as while the Galaxy Tab Pro 10.1 runs Android 4.4 KitKat (which is the latest version of the OS), it's heavily overlaid with Samsung's own UI.
That takes two forms, the first of which is TouchWiz, which Samsung peddles on all its Android devices. This aspect of the interface isn't too far removed from stock Android. It looks a bit different but the functionality is fairly similar.
However Samsung's also added a new Magazine UI and this is where things get different. Essentially it gives you an attractive widget-based homescreen. Think of it like a combination of the news feeds you get on Flipboard and the tile based interface of Windows Phone, bringing you all the latest new, updates and quick app-access on an attractive, screen-filling series of tiles.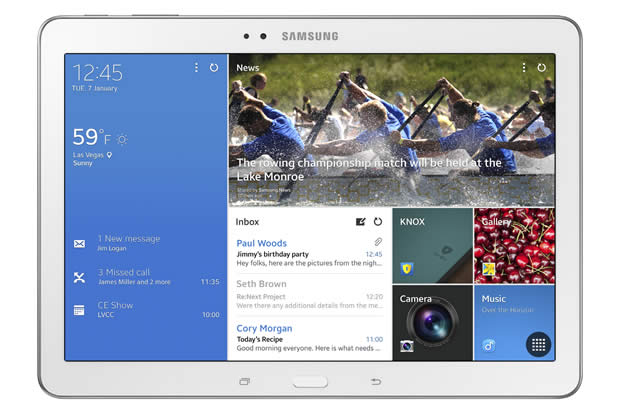 It looks great and works brilliantly on a screen of this size and while you can't totally disable the Magazine UI you can decide whether you'd rather have that or standard TouchWiz as the focus, so if you don't like it you're not forced to use it too much.
Another recent feature of Samsung tablets is multi-window support, allowing you to have multiple apps or screens up at once, which improves multi-tasking and again works well on the Tab Pro 10.1's big screen.
Onboard storage, Connectivity and Cameras
The Samsung Galaxy Tab Pro 10.1 has a choice of 16 or 32GB of built in storage. That's not as much as some devices, but there is a microSD card slot too, so you're unlikely to run short on space.
It supports Wi-Fi, Bluetooth 4.0, infrared and if you buy the LTE model it also supports 3G and 4G, however neither version comes with NFC.
The camera is surprisingly good by tablet standards. It's 8 megapixels and can take some reasonable quality photos. There's also a 2 megapixel front facing camera and it can shoot 1080p video at 30fps
Battery Life
The Galaxy Tab Pro 10.1 has an 8220 mAh power pack which can keep on going for up to around 10 hours of video or web browsing. For most people that should mean it can go for quite a while between charges and its battery life is well above average compared to what else is on the market.
Verdict
The Samsung Galaxy Tab Pro 10.1 is an impressive slate. It's got a great screen, an inspired interface, good battery life and it's light enough to carry around all day. The specs are good too, though they're beaten by other Samsung devices. Other than the disappointing build the only real problem with it is that it doesn't do enough to stand out from other Samsung devices. Still, if you don't already have a recent Samsung slate and can live without the S Pen this is highly recommended.