LG Shows Off New Devices And Innovations at MWC
24 Feb 2014 by Kevin Thomas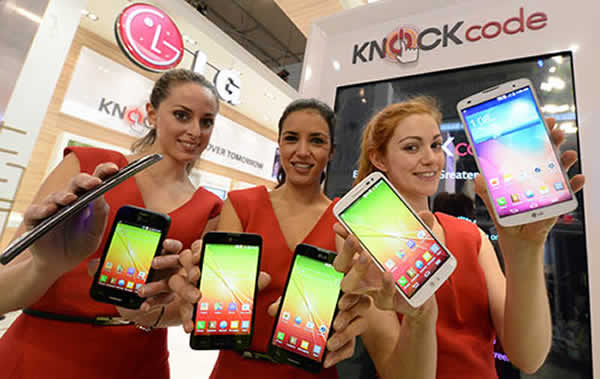 LG has hit the ground running at MWC with five devices on display from day one. To be fair, they're all things that we knew about already but this is the first time anyone's been able to go hands on with them.
First up there's the LG G Pro 2, which in the absence of the LG G3 is arguably going to be the company's flagship for a while. It has a crystal clear 5.9 inch 1080 x 1920 display, a 2.26 GHz quad-core Snapdragon 800 processor, 3GB of RAM, a 13 megapixel camera and a choice of 16 or 32GB of storage.
That camera is particularly exciting as it's the first LG smartphone to include Optical Image Stabiliser Plus (OIS+) technology, for smoother images and enhanced low light performance.
Next up there's the LG G2 mini, which is neither mini nor much like the LG G2, thanks to its 4.7 inch screen and slightly underpowered 1.2 GHz quad-core processor and 1GB of RAM. LG claims that the phone doesn't compromise speed for size, but those specs paint a different picture. However the handset does have the same user interface as other recent LG phones along with most of the features the company has become known for (including the divisive buttons on the back, inherited from the G2), so if you want to experience an LG phone with a smaller screen size this is a good option.
Finally there's the LG LIII Series, which is aimed at emerging markets and includes the 4.7 inch L90, with its 1.2 GHz quad-core processor and 1GB of RAM, the 4.5 inch L70, which has a 1.2 GHz dual-core processor and 1GB of RAM and at the bottom end of the range the 3.5 inch L40, with a 1.2 GHz dual-core processor and 512MB of RAM and despite being low end they all run Android 4.4 KitKat.
It's not only phones that LG is showing though, as the company also has a nifty new software feature on show. It's called 'Knock Code' and it's an evolution of the KnockON feature found on some of LG's earlier handsets. With the latter feature a double tap on the screen could wake it up, but with Knock Code you can use a series of taps in place of a pin or password to both turn the screen on and unlock the phone in one fell swoop.
LG argues that its Knock Code is more secure than other unlock methods, because it's entered on a blank screen, so bystanders can't see what you're doing as easily. It uses between two and eight taps and there are over 80,000 possible combinations. Plus you can tap any part of the screen to unlock it, making it easy to do with one hand. The G Pro 2 and G2 mini will both feature Knock Code and LG promises that firmware updates will bring it to some earlier handsets too, so if nothing else we'd wager the LG G2 will see it before long.
Sony have been busy too!