Three Coverage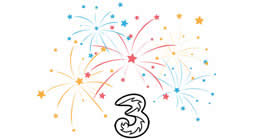 Three's mobile network is widely available, with network coverage for both 3G and 4G reaching the vast majority of the UK population, while 5G is available in parts of 154 locations at the time of writing.
Below you'll see details of exactly how much coverage Three has, along with information on its network speed, how it compares to other networks, how to check your coverage and what to do if you have bad signal.
Coverage checker
You can check both 3G, 4G and 5G coverage by heading to Three's coverage checker. Then, simply enter your postcode and it will give you an idea of what your 5G, 4G and 3G coverage is, breaking it down into both indoor and outdoor coverage for each network type.
This is worth paying attention to, because even if outdoor coverage is good, signal may struggle to penetrate walls in some areas.
Three's coverage checker also includes a coverage map, so you can see the bigger picture and check coverage in nearby towns and cities.
Network Coverage
You'll find full details of 5G under the heading below, but 4G and 3G are still Three's most widespread network types at the time of writing, so we'll detail them first. Three's 4G coverage currently reaches roughly 99.8% of the UK population, while it also has roughly 98.7% 3G population coverage.
The best Three coverage will usually be found in large towns and cities, most of which have strong 4G coverage, while even most rural locations are likely to have some network coverage, though in some cases it could be limited to 3G speeds.
But in some cases while connected to Three's 4G network you'll actually get better than standard 4G, thanks to a service known as 4G+ (sometimes referred to as LTE-A or LTE-Advanced). Three 4G+ is currently available in cities with high data demands, such as London, Birmingham, Cardiff, Edinburgh, and Glasgow. 4G+ on Three improves average data speeds by between 15% and 33%.
Three is also in the process of updating 6,000 sites (accounting for 80% of its network traffic) to allow them to offer 4G speeds that are up to 150% faster than what's currently available. This will be done through a combination of new antennas and new spectrum, and smany places have already been upgraded, but the full selection of sites won't see these improvements until 2023.
On top of all that, Three also offers 4G Super Voice (sometimes known as VoLTE), which means you can make calls over 4G. There are a number of advantages to this, but most notably it means Three's voice coverage will reach places it never had before, like indoor blackspots across towns and cities, bringing Three coverage to even more of the UK population.
5G coverage
Three 5G is now live in the following 154 locations. Those who purchase a phone contract, SIM Only deal or Pay As You Go plan will be able to access 5G at no extra cost.
Aberdeen

Abingdon-on-Thames

Adlington

Aldershot

Aldridge

Balloch

Barnsley

Barrow-in-Furness

Basildon

Bath

Bedford

Belfast City

Billericay

Billingham

Birkenhead

Birmingham

Blackburn

Blackpool

Borehamwood

Bournemouth

Bradford

Brighton

Brimington

Bristol

Bromsgrove

Brookmans Park

Broughton Astley

Burton upon Trent

Cannock

Cardiff

Chatham

Chelmsford

Cheltenham

Chesham

Christleton

Clayton-le-Woods

Clifton

Colchester

Copmanthorpe

Corringham

Coventry

Crawley

Crook

Cullingworth

Danderhall

Denholme

Derby

Dewsbury

Doncaster

Dundee

East Kilbride

Edinburgh

Ellesmere Port

Exmouth

Glasgow

Gorebridge

Grays

Greenock

Grimsby

Guildford

Hamilton

Hartley

Heanor

Heathcote

Hedge End

Hemel Hempstead

Hertford

Heswall

Horley

Horwich

Huddersfield

Huntington

Inchinnan

Ingleby Barwick

Ipswich

Irlam

Iver Heath

Kings Hill

Kings Langley

Kingston upon Hull

Kirkheaton

Leeds

Leicester

Leyland

Lincoln

Liverpool

London

Lower Stondon

Luton

Maidenhead

Maidstone

Manchester

Mansfield

Marlow Bottom

Metropolitan Castlereagh

Metropolitan Newtownabbey

Milton Keynes

Motherwell

Neston

Newcastle upon Tyne

Newhall

Newport

Newquay

Newton Aycliffe

Newton-le-Willows

Normanton

Northampton

Nottingham

Nuneaton

Ottershaw

Oxford

Peterborough

Plymouth

Porthcawl

Portsmouth

Preston

Reading

Redcar

Royston

Sheffield

Shelly Green

Slough

South Heighton

South Normanton

Southampton

Southend-on-Sea

Southport

St Albans

St Blazey

St Columb Road

Stevenage

Stockton-on-Tees

Stoke-on-Trent

Sunderland

Sunninghill

Sutton in Ashfield

Swadlincote

Swindon

Tamworth

Telford

Thornaby-on-Tees

Wakefield

Walton

Warrington

Washington

Westhoughton

Weybridge

Wickford

Wigan

Winterbourne

Worcester

Worksop

Writtle

York
Three expects 5G to cover 80% of its network traffic within three years of launch (meaning by around early 2023), and – other than needing a 5G handset – you won't need to pay any extra to get 5G, as it's offered at no extra cost on all existing plans.
Three also boasts that it's the only UK network equipped to offer 'true' 5G at launch, which should make it faster than rivals. This is largely thanks to it having a 100MHz block of contiguous 5G spectrum.
Three Network
As well as widespread coverage, Three also has a number of awards. Roaming seems to be one thing that it consistently wins awards for, having for example won 'Best Network for Roaming' at the uSwitch Mobile Awards in numerous years, including 2020, as well as having won the same award at the Mobile Choice Consumer Awards 2017.
It's perhaps no wonder that Three is so well regarded for roaming, given that it's offered free roaming longer than rivals and even now lets you roam across more of the world at no extra cost than most rivals, but those aren't the only awards Three has won in recent years.
Other examples include 'Most Popular Mobile Network' at the 2018 uSwitch Mobile Awards, 'Best Network for Data' at the uSwitch Mobile Awards 2017 and Mobile Choice Consumer Awards in 2018 and 2019, and 'Best Pay Monthly Network' at the 2017 uSwitch Mobile Awards. It also won 'Best Value Network' at the Mobile Choice Consumer Awards in 2019.
Network speeds
Obviously, you'll have faster speeds using Three's 4G network than its 3G phone network, around five times faster in fact. Three's average 4G download speeds stand at 22.2Mbps according to OpenSignal's Mobile Networks Experience Update from October 2020. The same report put its average 4G upload speed at 8.0Mbps, while an April 2020 report put its average latency (the amount of time the network takes to respond to a request) at 48.3ms – latency wasn't included in the October report.
Network frequencies
Three's 4G network uses the 800MHz and 1800MHz bands. The former can travel long distances, meaning it's great for rural locations where masts and people will be more spread out. And it's also great at bringing 4G signals indoors, whereas some other frequencies struggle to penetrate walls.
1800MHz is shorter range and not as good at passing through obstacles, but it's high capacity, so Three can handle a lot of network traffic using it.
In areas where you're limited to 3G, you'll be using the 2100MHz band.
As for 5G, this uses spectrum in the 3.4GHz and 3.6GHz-3.8GHz bands.
WiFi Calling
As well as its phone network and mobile data, Three also offers WiFi Calling. This means you can call and text over Wi-Fi, so if you ever have network or signal problems you can still stay in touch with people.
WiFi Calling works seamlessly without a separate app on a selection of the latest handsets, along with many older ones, with more being added all the time. You can see the full selection here.
Frequently Asked Questions
When will I have Three 4G or 5G in my area?
If you don't currently have any 4G or 5G coverage in your area you quite possibly will soon, as Three's network is continually growing.
So we'd suggest regularly returning to Three's coverage checker to check coverage. The more urban your area the sooner you're likely to get network coverage, but even rural locations are increasingly getting Three 4G and even 5G coverage.
How can I check the network status in my area?
Network status in your area can be seen by using Three's network and coverage support page.
Three's network is constantly undergoing maintenance and upgrades in different areas across the UK. In areas where work is ongoing Three customers may experience disruptions in service, so it's important to check network status in your area. However, for planned work Three will generally alert existing customers to potential disruptions.
What could be affecting my speeds and coverage?
A lot of different things can affect speeds and coverage and not all of them will be picked up on even if you check coverage on Three's coverage checker.
Possible problems include walls and other obstacles, temporary structures, your distance from the nearest mast, extreme weather such as flooding or strong winds, planned or unplanned maintenance, and issues with your device or account.
Some of these issues are temporary, others are more permanent, but either way there are things you can potentially do to improve your 4G and 3G performance, highlighted below.
How can I improve my speeds and coverage?
First, you might want to use a speed testing app or site to see just how fast your phone network really is, as well as checking the signal strength.
If you're definitely having a problem, you should try charging your battery if it's low and doing a software update if it's not on the latest version, as these can both affect signal strength.
You should also check Three's network status in case there are any outages in your area. Other things to try include turning airplane mode on and off again, turning your device off and on again, ensuring mobile data is on, and resetting your network settings.
It can also be worth double checking there hasn't been a billing issue or failed top-up on your Three account.
If all else fails, give Three a call on 333 from your Three phone or 03333 381 001 from any other phone.
Can anything be done if I'm in a bad signal area?
The main option is WiFi Calling, as discussed above. Three used to offer alternatives, including the Three inTouch app and a Home Signal box, but it has ceased doing so.
Check out our full guide to improving your Three signal.
Will Three's coverage improve?
Yes. Three's coverage is improving all the time. It already has almost UK-wide 4G and 3G population coverage though, so 5G is the next big step. You can expect Three 5G to land in most parts of the UK over the next few years.
What's the difference between indoor coverage and outdoor coverage?
Outdoor coverage is typically more widespread, since a signal has to pass through walls to provide indoor coverage. So in short if you have outdoor coverage somewhere you may or may not have indoor coverage, while if you have indoor coverage you almost certainly also have outdoor coverage.
Since all buildings are different, no coverage checker can say for sure whether you'll have coverage in a specific building.
How can I report a signal problem?
Simply head to this page and fill in the short form. Or, if you want support for a signal issue, give Three a call on 333 from your Three phone or 03333 381 001 from any other phone.
Does Three control its coverage abroad?
No, it partners with local networks and relies on their infrastructure. As such speeds and coverage outside the UK will be variable and largely outside of Three's control. The good news though is that the network allows you to roam for free in a vast number of locations, with 71 offered if you're on an Advanced Plan (which all new plans are) and 49 on an Essential Plan (which are no longer offered, but which you might be on if you've been with Three for a while).
---
The information contained on this website has been written to assist our readers. We do not represent Three or speak on its behalf and are entirely independent of Three.