Nokia Lumia 730 and Lumia 735 release date, price and specs
5 Sep 2014 by Kevin Thomas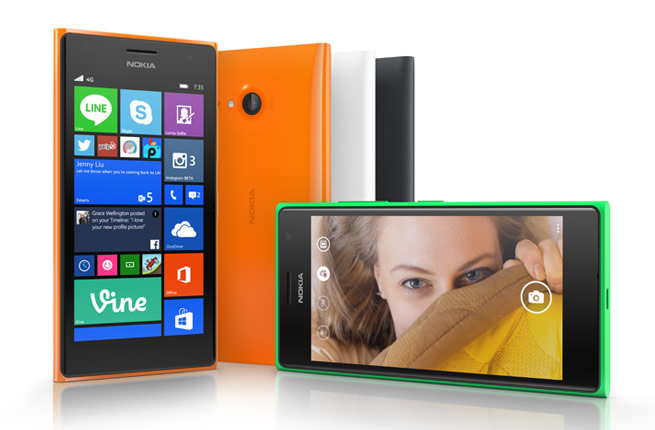 The Nokia Lumia 730 and Lumia 735 are the latest additions to Nokia's Lumia's range and are mid-range smartphones that combine the best of Lumia with the latest from Microsoft. The only difference between the two smartphones is that the Lumia 730 is a dual-SIM version (3G only), while the Lumia 735 supports superfast 4G LTE.
Nokia Lumia 730 and Lumia 735
The specification of the Lumia 735 and Lumia 730 is solid, if not spectacular, and is fronted by a 4.7-inch 720p display (1280*720 pixels), while they are powered by a quad-core 1.2GHz processor complemented by 1GB of RAM. And they come with 8GB of onboard memory which can be expanded using microSD cards (up to 128GB).
The cameras are a particlular highlight because you get a front-facing 5 mega-pixel camera for capturing superb selfies and a 6.7 mega-pixel rear-facing snapper with Zeiss optics and an LED flash.
Perhaps the biggest selling point of the Lumia 730 and 735 over other mid-rangers is that it comes pre-loaded with the latest version of Windows Phone 8.1 with the Lumia Denim update, while the 730 has dual-SIM support and the 735 supports 4G LTE. And you can change the colour of the smartphones to suit your mood thanks to their interchangeable back covers.
Release date & Price
The Nokia Lumia 730 is set to go on sale this month, alongside the Lumia 735 although an precise launch date is yet to be confirmed. The dual-SIM Lumia 730 will be priced at 199 Euros, while the 4G-LTE enabled Lumia 735 will cost 219 Euros.
Specification
Dimensions: 134.7 x 68.5 x 8.7mm
Weight: 133g
Display: 4.7-inch 720p HD display
Processor: 1.2Ghz Quad-core, 1GB RAM
Onboard memory: 8GB (microSD support)
Camera: 6.7 mega-pixel rear-camera with Zeiss optics and LED Flash, 5 mega-pixel wide-angle front-facing camera
Connectivity: 4G LTE (Lumia 735 only), WiFi, Bluetooth, Dual-SIM (Lumia 730 only)
Operating System: Windows Phone 8.1 with Lumia Denim
Battery: 2200mAh
Colours: Orange, Green White and Black (with interchangeable covers)