Nokia Lumia 930 vs Apple iPhone 5S: Flagship Face-Off
25 Apr 2014 by Simon Thomas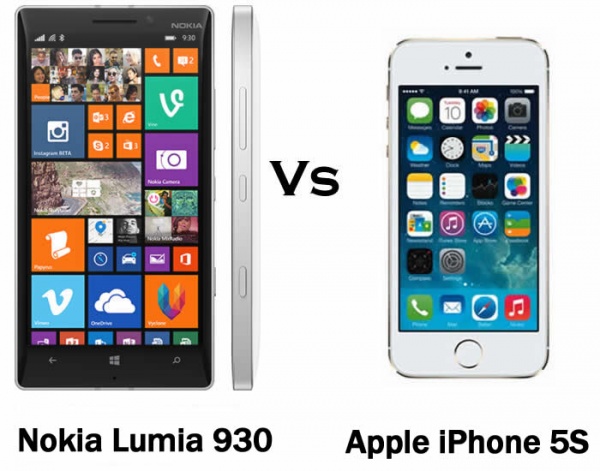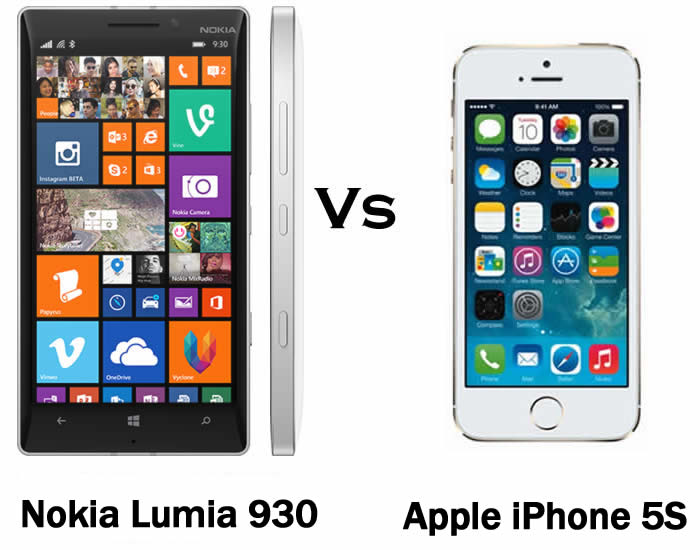 Windows Phone has thus far struggled to make much of a dent against the might of Apple and Android, but the Nokia Lumia 930 could be the first step towards changing that. With its high end specs, great camera and classy build it's a true flagship.

So how does it stand up to the iPhone 5S? A phone which is similarly powerful, similarly premium and sells by the bucket load. Read on to find out.

Nokia Lumia 930 vs Apple iPhone 5S - Build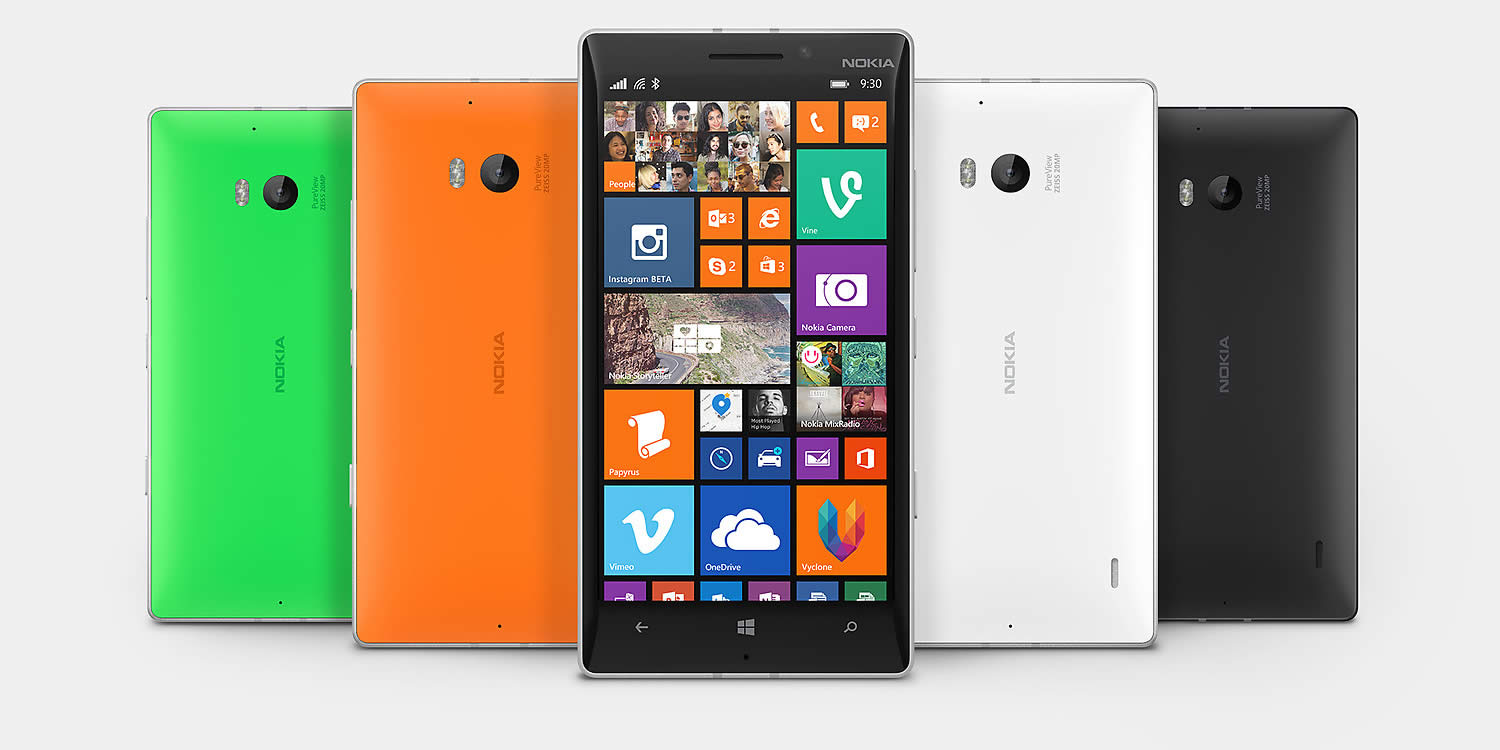 The Nokia Lumia 930 stands out from most other Lumia's by including an aluminium frame. But it doesn't go the whole hog with a fully metal build like the HTC One (M8), instead opting for a polycarbonate back, which can be had in either the bright colours Lumia is known for or a more reserved black or white.

At 137 x 71 x 9.8mm the Lumia 930 is certainly on the chunky side and at 167g it's not light either but it feels well built and it looks good.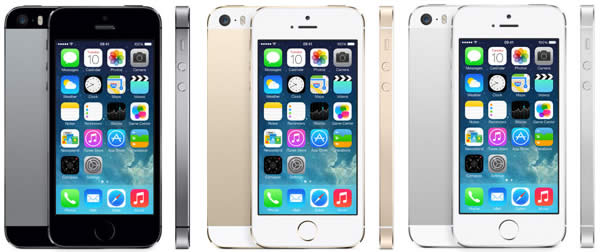 The Apple iPhone 5S has a mostly metal body, with two strips of glass across the back, one at the top and the other at the bottom. It gives it a distinctive, almost iconic look and there's no plastic in sight so it's one of the most premium handsets out there.

Its dimensions of 123.8 x58.6 x 7.6mm leave it slim and relatively compact, though the bezels above and below the screen are surprisingly large. It's light at 112g and while the Lumia 930 looks good, the iPhone 5S looks better.

Nokia Lumia 930 vs Apple iPhone 5S - Display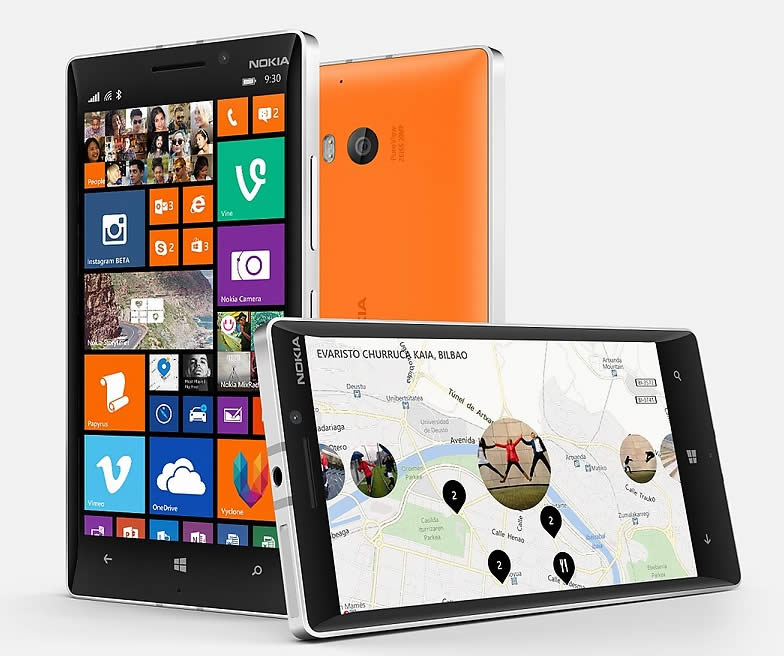 The Nokia Lumia 930 has a 5 inch 1080 x 1920 AMOLED display with a pixel density of 441 pixels per inch. So in other words it's big and high resolution. It's also high quality, with bright, natural colours and great contrast.

The iPhone 5S has a far smaller 4 inch 640 x 1136 IPS LCD display with a pixel density of 326 pixels per inch. So not only is it smaller but also less sharp, though don't let that put you off as it's still a great screen with similarly great colour reproduction and contrast. Overall though we'd have to give the edge to the Nokia Lumia 930 here.

Nokia Lumia 930 vs Apple iPhone 5S - Power

The Nokia Lumia 930 is one of the most powerful Windows Phone handsets around with a 2.2 GHz quad-core Snapdragon 800 processor and 2GB of RAM. That's still not quite up to the standards of most Android flagships but it's not far off and Windows Phone is lighter on resources.

The iPhone 5S has a 1.3 GHz dual-core Apple A7 processor and 1GB of RAM. However it's 64-bit while the Lumia 930 is just 32-bit. It feels fast and powerful no matter what you're doing and is easily a match for the Nokia.

Nokia Lumia 930 vs Apple iPhone 5S - Camera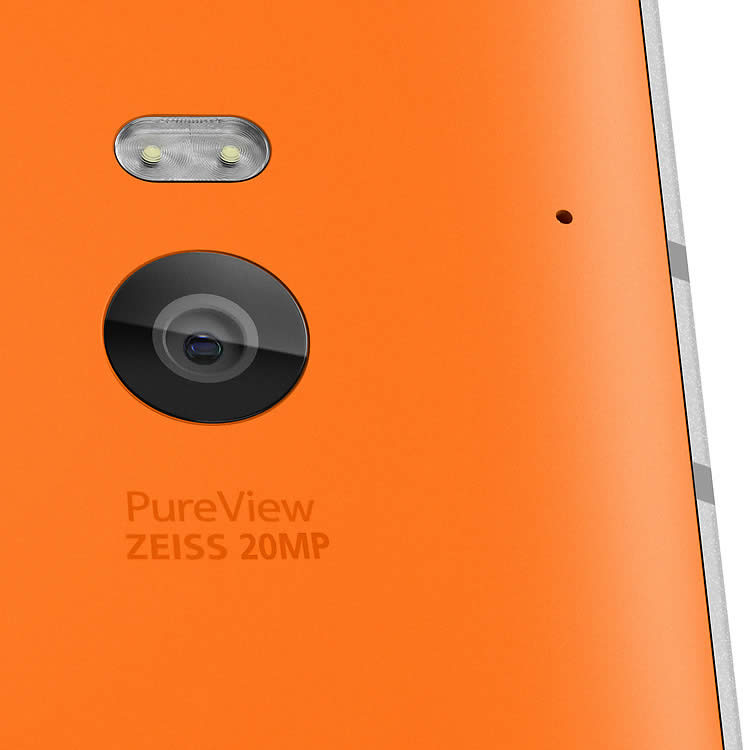 Nokia does cameras well and the Lumia 930 has one of its best, with a 20 megapixel Carl Zeiss snapper that has optical image stabilisation, dual-LED flash and can shoot 1080p video at 30fps. It also has a competent 1.2 megapixel camera on the front.

The iPhone 5S is a pretty good camera phone too, with an 8 megapixel sensor and a dual-LED 'True Tone' flash which accurately replicates colours and skin tones. It can also shoot 1080p video at 30fps and 720p video in slow motion at 120fps. Plus it matches the Lumia 930's front facing camera with a 1.2 megapixel snapper of its own.

Overall the iPhone 5S is marginally better for video but substantially worse for photos. It's still good but the Lumia 930 is the one to go for if pictures are a priority.

Nokia Lumia 930 vs Apple iPhone 5S - Battery life, memory and connectivity

The Nokia Lumia 930 has a 2420 mAh battery, which Nokia claims can last for up to 432 hours on standby, 15 hours and 30 minutes of talk time or 75 hours of music playback. That amounts to slightly above average battery life overall.

The iPhone 5S has a far smaller 1560 mAh unit, which can last for up to 250 hours on standby, 10 hours of talk time or 40 hours of music, making it slightly below average compared to phones that are coming out now.

The Nokia Lumia 930 only comes in one size- 32GB and there's no microSD card slot, but that should be enough storage space for most people. The iPhone 5S has a choice of 16, 32 or 64GB of storage. Again, there's no microSD card slot but at least Apple gives you a choice of sizes.

The Lumia 930 supports Wi-Fi, 3G, 4G LTE, Bluetooth 4.0 and NFC. The iPhone 5S has almost the same set of connectivity options, but there's no NFC support.


Nokia Lumia 930 vs Apple iPhone 5S - Conclusion


The iPhone 5S and Nokia Lumia 930 are closely matched but they excel at different things. The Nokia Lumia 930 has a slightly better screen and camera. It should also have a longer battery life and it includes NFC support. The iPhone 5S on the other hand trumps the Lumia's build quality, is better for video and can come with more storage, while the two handsets are evenly matched in the power stakes.


So which is better? That really depends on what you want as they're quite different as outlined above and that's before you even consider that they have very different screen sizes and run different operating systems. Overall it's a draw, which in a way is still a big win for Nokia, as the company has struggled to release a truly well rounded flagship in recent years.
You might also be interested in:
Register your interest in the Lumia 930 here. (Expected launch date July)