Virgin TV Anywhere comes to Android KitKat
7 Apr 2014 by Simon Thomas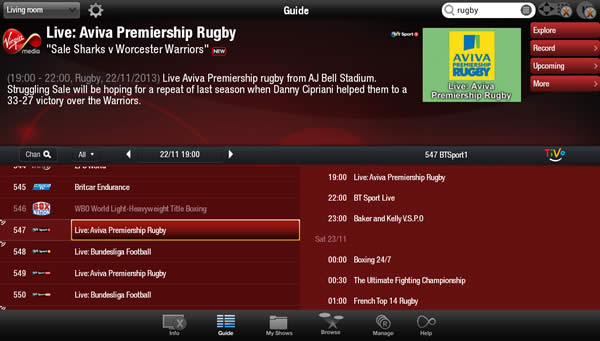 Virgin launched their rival to Sky Go back in December, but the initial Android release of Virgin TV Anywhere didn't support devices running on KitKat (4.4). That's now been put right with the recent release that adds support for devices running on Android KitKat.
The streaming and catchup service now supports the Google Nexus 5, HTC One M8 and all other devices that run on the latest version of Google's operating system, including upcoming releases and devices that have already been updated to KitKat.
Virgin TV Anywhere is available free to Virgin Media TiVo customers and is also available on iOS devices. There are 68 channels available to watch live on the service and over 2,500 hours on on-demand content.
Even if you don't plan on streaming content on your smartphone or tablet, the application is still worth downloading because it enables you setup new recording on your TiVo box, view the TV guide and delete recordings.
Virgin TV Anywhere is available to download on Google Play here.
Want to keep up to date with the latest mobile news, reviews and get exclusive mobile deals? Follow 3G on Facebook, Twitter or Google+