Three Rescue - Insurance and security for your phone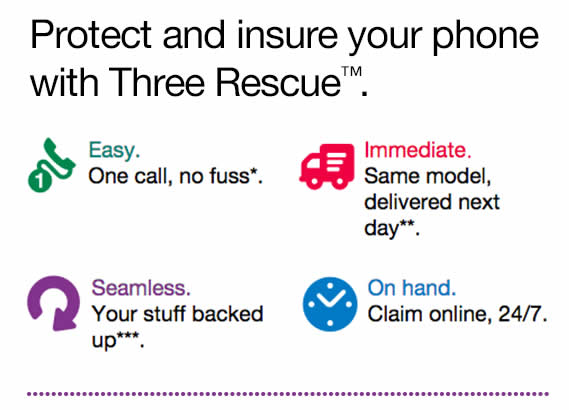 Losing or breaking your phone can be a nightmare. Not only does it make it a lot harder to stay in touch with people but replacing it can be costly and time consuming.
That's where Three Rescue comes in. It's a service offered by Three which aims to solve all of those problems for Three customers. Here's everything you need to know about it.
What is Three Rescue?
Three Rescue is a service offered with devices from Three, which covers you in case of loss, theft or damage to your device, making sure you get a new one sent to you – often the very next day.
What am I covered for?
Essentially Three Rescue is an insurance service, offering either 'Full Cover' or 'Damage Cover'. Full Cover provides cover against loss, theft, accidental damage (including damage caused by liquids), malicious damage, pet damage and out of warranty breakdown, while Damage Cover protects you against all of that except loss and theft, but costs less as a result.
If any of those things happen to your device you just give Three Rescue a call or make a claim online and they'll send you a replacement device the next day.
What's not covered?
You won't be covered for any faults which occur within the manufacturer's warranty period. Three Rescue also doesn't cover incidents where you have knowingly taken a risk with your device, cosmetic damage, damage caused by wear and tear or acting against the manufacturer's guidelines or altering your device, fraudulent claims or any unauthorised call, text or data uses. Three also won't cover accessory-only claims.
You also can't make a third claim within any 12-month period.
Of course, you're also only covered for a device purchased from Three (or replaced by Three or under manufacturer warranty) and aren't covered if you're behind on your Three Rescue payments.
Am I covered outside the UK?
Yes, Three Rescue provides worldwide cover. However, your replacement device can only be delivered to an address in the UK or Channel Islands.
How much does it cost?
The cost of cover depends on which device you have, with pricier handsets obviously costing more to ensure. You can get a quote from Three's website, but as an example the Samsung Galaxy S7 will cost £8.50 per month with a £80 claim excess fee for Full Cover, while the Microsoft Lumia 550 will cost just £3.50 per month with a £30 excess fee for Full Cover and £2.50 per month with a £20 excess fee for Damage Cover.
Is Three Rescue only available for phones?
No, it can also be purchased alongside tablets and mobile Wi-Fi devices. Almost all devices sold by Three can be protected by Three Rescue.
How do I get it?
Three Rescue is available with most devices on Three and can be purchased at checkout as an add-on. However, it's only available to customers who have purchased a new or refurbished device from Three, as part of their network contract.
The Three Rescue app
If you have an existing Three Rescue policy taken out before September 7th 2016 you'll also have access to the Three Rescue app for the duration of your cover.
This is compatible with Android devices running version 4.0 or above and iOS devices on iOS 7 or higher, but isn't offered with new Three Rescue policies.
The app makes sure all of your contacts, photos and videos are backed up in the cloud, with 10GB of free storage. So if your smartphone is ever lost or broken its content won't be.
The app can also be used to track a missing device, remotely sound an alarm, remotely lock or erase your device and monitor what's using up your storage and battery life.
What else do I need to know?
Three Rescue aims to have a new device with you the next day, assuming you're in the UK and your claim is approved by 8:30pm Monday to Friday or 2:30pm on weekends.
If it fails to have a device with you the next day it will pay you £20.
The handset or other device you receive will usually be the same make and model as the one you're making a claim for. It might be new or it might be refurbished to Three Rescue's standards.
The only time you won't get the same make and model of device is if Three Rescue is unable to source one, in which case you'll receive a device with similar features and functionality.
Claims can be made online 24/7 directly with Three and you'll get a 24-month warranty on your replacement device.
Find out more about Three Rescue here.