3 Customer Service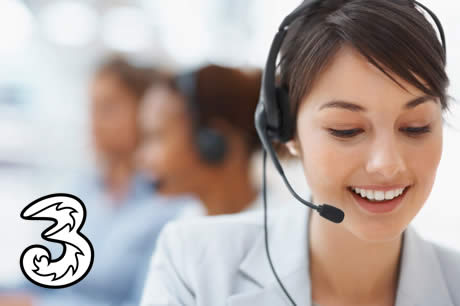 Contact Numbers
Phone/SIM Only Customers

from a Three phone

from any phone

from abroad

Mobile Broadband Customers

from a Three phone

from any phone

from abroad
Opening Times
Three's call centre opening times are:
Monday - Friday: 8am - 8pm
Saturday and Sunday - 9am - 6pm
Livechat is available 24 hours a day, 7 days a week.
Customer Service Departments
Three customer service can help with the following topics.
Sales & Purchases
Help purchasing a product or service
Bills & Contracts
Help with your bill or contract, or making payments.
Top Up & Add-Ons
Buying Pay As You Go top ups, or Add-ons.
Coverage & Signal
Help with coverage, network status and signal problems.
Roaming Abroad
Activating roaming abroad, or help with Feel At Home.
Device Support
Help with setting up or using a device.
Delivery, Returns & Exchanges
Delivery tracking, order tracking and returns
Upgrades and Cancellations
Upgrading or cancelling a contract.
Lost or Stolen Phone
Reporting a phone lost or stolen.
View department contact details
Accessibility Team
Minicom - 0800 358 6799
Textphone - 0800 033 8011
Call - 0800 033 8011
Three Store Finder
Looking to find a Three store need you? Find a store quickly and easily here.
About Three Customer Services
Whether you choose to visit Three's online store or call you will get the highest levels of customer service. Three aim to deliver all their smartphones the next-day and its UK based-call centre is always there to answer any questions/problems you may have.
The 3 network is the UK's fastest growing network with 97 per cent coverage in the UK. The network supports 3G, Ultrafast 3G and 4G which delivers the quickest speeds currently possible on a mobile phone.
---
The information contained on this website has been written to assist our readers. We do not represent Three or speak on its behalf and are entirely independent of Three.