3 Customer Service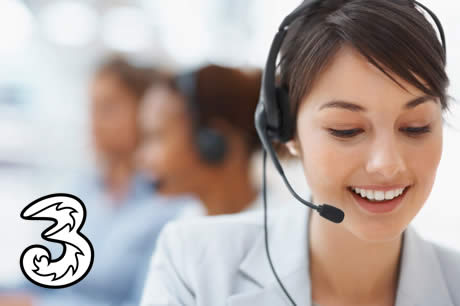 Contact Numbers
Phone/SIM Only Customers

from a Three phone

from any phone

from abroad

Mobile Broadband Customers

from a Three phone

from any phone

from abroad
Opening Times
Three's call centre opening times are:
Monday - Friday: 8am - 8pm
Saturday and Sunday - 9am - 6pm
Customer Service Departments
Three customer service can help with the following topics.
Sales & Purchases
Help purchasing a product or service
Bills & Contracts
Help with your bill or contract, or making payments.
Top Up & Add-Ons
Buying Pay As You Go top ups, or Add-ons.
Coverage & Signal
Help with coverage, network status and signal problems.
Roaming Abroad
Activating roaming abroad, or help with Feel At Home.
Device Support
Help with setting up or using a device.
Delivery, Returns & Exchanges
Delivery tracking, order tracking and returns
Upgrades and Cancellations
Upgrading or cancelling a contract.
Lost or Stolen Phone
Reporting a phone lost or stolen.
View department contact details
Accessibility Team
Minicom - 0800 358 6799
Textphone - 0800 033 8011
Call - 0800 033 8011
Three Store Finder
Looking to find a Three store need you? Find a store quickly and easily here.
---
The information contained on this website has been written to assist our readers. We do not represent Three or speak on its behalf and are entirely independent of Three.